October 2008, Eastern Carribean Cruise on the Carnival Liberty
10/17 - Flew to Ft. Lauderdale, picked up our rental car, and drove to Dwight and Jan's place in Miami. It was fun to see them and spent the night at their house before our cruise.

10/18 - Started our cruise in Miami. We were able to board around 1:00 and the Liberty departed at 4:00. We booked a inside room, 6409. It turned out to be close to the laundry on the floor which was convenient.
| | | | |
| --- | --- | --- | --- |
| MOVIE: from ship | Route pre-Nassau | Jeff & Lynn | Carnival Liberty |
Half Moon Cay, Bahamas
10/19 - We decided to relax on the beach for our afternoon. I saw some tours going horseback riding and another snorkeling with stingrays. On the beach they have chairs free, or you can rent beach chairs with a shade top, or for more $ a small wooden building that has a shower and fan. The beach was nice with the water clear and just cool enough to feel good.

We walked the beach a long way until we got to the horse area, and then decided to turn around to avoid the droppings. Our table mates Allen and Judy went on the horse ride and said they enjoyed it. You are able to walk to where the stingrays were, it is only a 5 minute walk from where the boat drops you off but there were mosquitos buzing around soon as you went inland. They had the stingrays captured in a small lagoon with a fence to keep them in.

10/20 - Sea Day. Usually have the dress up dinner on sea days.
| | |
| --- | --- |
| MOVIE: Half Moon Cay | MOVIE: Bird singing |
| | | | | |
| --- | --- | --- | --- | --- |
| Cay Ferry | Half Moon Cay Map | Half Moon Cay | Half Moon Cay | Cay Stingray |
| | | | | |
| --- | --- | --- | --- | --- |
| Half Moon Cay Beach | Half Moon Cay JL | Sea Day | Chandellier | Dinner |
St. Thomas, USVI
10/21 - We decided to tour the island on our own, having been there once before. We were going to rent a scooter but were luckily when we went to buy a mask and snorkel, were recommended to get a car instead. There were only Jeeps available when we went to get a car, so for 60 for the car, 10 for tax, and 10 for some insurance we had a vehicle for until 4:00.

Our impressions of the island were mixed, some of the people were extremely friendly and had some spectacular views and beaches. On the negative, the roads had terrible pot holes and went up and down and all around. Also the Budget car rental was not very friendly or efficient.

We went to secret harbor first and after swimming around had lunch at the Blue Moon right on the beach. They had a shower and a bathroom for changing. We then went to Secluded harbor; it was a better beach for snorkeling with more coral. There was also a place to get food and take a shower to rince off.

Lastly we were going to go to Megans Bay, but traffic was very bad due some construction in town, so we decided to turn in the Jeep and do a little shopping before getting back to the ship.
| | | |
| --- | --- | --- |
| St. Thomas MOVIE | Secret Harbor MOVIE | Sapphire Beach MOVIE |
| | | | |
| --- | --- | --- | --- |
| St. Thomas | St. Thomas & Lynn | Secret Harbor | BlueMoon |
| | |
| --- | --- |
| Sapphire Beach | Lynn on Sapphire Beach |
San Juan, Puerto Rico
10/22 - We were also here before and enjoyed walking around and seeing the sights. There are forts around the island for exploring, narrow brick laid street and houses brightly painted, and well kept. It was a nicer feel than on St. Thomas. We walked around looking at the Forts, buildings, shops, statues, etc. Lynn bought a nice wrap skirt and we had lunch and a margaretta at Lupi's restaurant not far from the Pier.

It was a relaxing afternoon, and when we were getting back on the Pier saw great prices on all kind of Liquiors. A few examples: 1 liter of Cointreau for $19.95, 1 liter of Grand Marnier for $27.95, Bacardi or Barcardi Gold for $9.95, 1 liter of Jose Cuervo Especial for $13.95, 1 liter of Absolut Vodka $11.95, Kahlua $14.95, Baileys $18.95. Prices were better than on the ship and later I found out that if you purchased your liquor from the port you could bring back 4 liters duty free as opposed to 2 liters purchased on the ship. It all became mute as the ship matched all prices as long as you brought proof of the lower price, and at customs they did not charge us for our extra 2 bottles.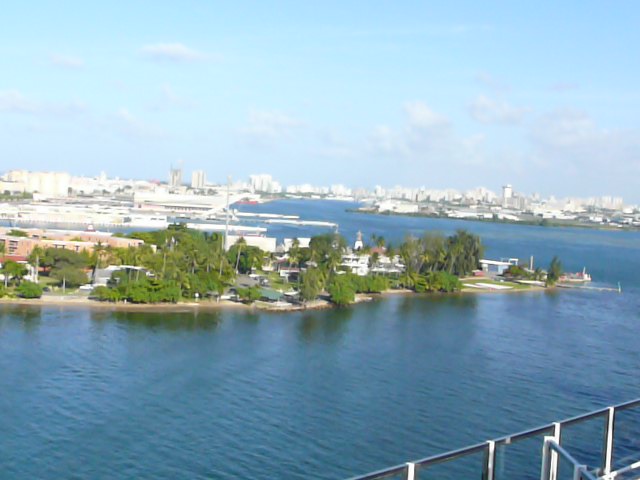 San Juan MOVIE
| | | | | |
| --- | --- | --- | --- | --- |
| San Juan Fort | Fort | San Juan fort | San Juan fort | San Juan Point |
| | | | | | |
| --- | --- | --- | --- | --- | --- |
| San Juan Street | San Juan Governors residence | San Juan Street | San Juan & Liberty | Pigeons | Lupi's |
| | | | | |
| --- | --- | --- | --- | --- |
| San Juan Statues | San Juan Fountain | San Juan | San Juan Liberty | Liberty leaving San Juan |
Nassau, Bahamas (was suppose to be Grand Turk)
10/23 - We booked this cruise because we had not been to Grand Turk. Unfortunately hurricanes did enough damage to stop the ship from stopping there. At Nassau you can go to the market right off the pier and there are tons of knock off purses, tee shirts, etc. We stopped by there but didn't need anything. We caught a group taxi to Atlantis to look around. It was an amazing place, very upscale. We liked the buildings look and decore. Inside they have a huge fish tank inside that had manta rays, sting rays, sharks, and all kind of fish.

10/24 - Sea Day. We really were relaxing this cruise. We were relaxing in our room by 9:00, skipping the shows and all the other happenings. We did get up four of the mornings and worked out on the eliptical, treadmill, and weights. Part of the motivation was to burn some of the calories from all the food. My favorites was the anchovies that came with my ceasar salad, prime rib, lobster, stir fry with your fixings in a wok, chocolate molten cake.
| | | | | |
| --- | --- | --- | --- | --- |
| Atlantis door | Inside Atlantis | Atlantis Chair | Atlantis & Lynn | Atlantis View |
| | | | | |
| --- | --- | --- | --- | --- |
| Atlantis Aquarium | Aquarium | Atlantis Aquarium | Atlantis & Aquarium | Atlantis |
| | | | | |
| --- | --- | --- | --- | --- |
| Bahamas port | Liberty Lounge from elevator | Lynn Jeff Liberty Hall | By the Sushi station | Suparta our Waiter |
Miami
10/25 - Picked up a rental car, and drove to Key Largo to put some stabile in the boat. Had lunch at Hobos and drove to Ft. Lauderdale to see and stay with Marlene and Paul. It was fun to get to know them better and see their home.

10/26 - Dropped off the car by 2:00 and caught our plane out at 4:00 to come home.

If you want more info write to: jeffdils@yahoo.com