Our June 2008 vacation to Pisgah Inn in North Carolina
5/31 - Left home at 5:15 a.m. en route to Pisgah Inn in NC to spend a week with Dwight and Jan vacationing in a loved spot of theirs. Chelsea was 63 degrees when we left and by 1:15 p.m. the temp in TN was 89 degrees. Good gas prices were 4.06 in Michigan, 3.83 in Ohio, 3.77 in Kentucky and Tennessee. We traveled 75 south to 40, to 276, then the Blue ridge parkway to the Inn. Arrived at Pisgah Inn around 4 p.m. Met up with Dwight and Jan for dinner at the lodge. The lodge had great views, and a good selection of food with reasonable pricing.

The Pisgah Inn, which is in Waynesville, NC ( Pisgah Inn , phone 828-235-8228) is authorized to provide services on the Blue Ridge Parkway under a concessions contract with the National Park Service. The Inn is at an elevation of 5,000 feet and the views from your room and porch are great! The room rate is about $100 per night.

6/1 - Started bundled on our porches as it rained but stopped early and headed to Pink Bed Trails around 10:30 a.m. for a 5 mile hike. The grounds and greenery were wet from the morning rain and the forest was abundant with blooms and smells along our hike. Headed to Brevard for lunch at Cielito Lindo, a great Mexican restaurant with HUGE mugs of cold beer. Walked around Brevard a bit, Dwight and Jan showed us a favorite shop of theirs (D. D. Bullwinkles and Rocky's soda shop... where D loves his chocolate shakes!) and then drove to Brevard College to see the white squirrels... quite a rarity! On our ride back to the Inn stopped to view the Looking Glass Falls; very beautiful and right off the roadside!

6/2 - Woke to a beautiful, clear day. After heading to the dining room for breakfast went with Dwight on a hike up Mt. Pisgah (Jan stayed back at the lodge resting a sore hip). The hike was a mile to the Mountain from the lodge and 1.5 miles up to the summit. Our 5 mile hike took us about 2.5 hours and the trek and the views were fab. Just as Dwight had said, that last 1/3 of the way up was a good workout! Went back to the Inn and then off for a ride to the Sapphire and Highlands areas, which wound up to be about a 65 mile drive. Stopped for refreshments along the way at a restaurant beside a roadside dam. Then walked around Highland a short while before having dinner at a nice Italian restaurant, Osteria Del Monte.

6/3 - After breakfast hike the Buck Spring Trail right off the dining room at the Pisgah Inn (between a 5 & 6 mile hike). At the beginning of our trail we saw strewn linens and big bear poop so the trail received an aka of Bear Shit Trail. The forest was incredible with fabulous blooms and streams and luckily no bear encounters. Took us about 4.5 hours and then off to our favorite Mexican spot, Cielito Lindo, for lunch (terrific Chile Poblano's... a repeat choice for me many times!). Stopped in at the Discovery Center in the Forest on our way back to the Inn; viewed some of their displays (took the helicopter ride over a forest fire) and checked out the gift shop for T-shirts.

6/4 - Howling winds is what we awoke to this morning. The days have been getting steadily more hot and we planned for a canoe trip on the French Broad River (3rd oldest River in the WORLD, after the Nile and New River) today. In the 90's today!!! Picked up lunch at Poppies in Brevard before our canoe trip then off to Headwaters in Rosman for our 8 mile canoe trip. Very easy going 3 hour journey... saw a raccoon, turtle, cardinals and other birds along the way. Very pretty scenery. Then, guess where... back to Cielito Lindo for some of our favorite things! Then back to Pisgah Inn via backroads. Had been told of a bear sighting the night before in the parking lot of the Inn; bear was said to be about 400 lbs. and said to make regular treks to the dining room area across the parking lot. Staked out on the porch but no sighting, but had fun doing so with lots of silliness.

6/5 - Started our day with a short hike on the Moore Cove Falls trail; refreshing and beautiful sights all around us. Then off to the hatchery area and a short hike on the John Rock trail, ending at a lovely waterfall spot before turning back. And then, what a surpise, back to Cielito Lindo for our favorite $3.25 huge Dos Equis and our meal choices. Back to the Inn to start packing before our drive home tomorrow.

6/6 - Had breakfast with Dwight and Jan before heading down the mountain for our journey back home. Left the Inn about 8:45 a.m. for a beautiful, sun filled, tree lined drive. Wonderful fragrances along the drive.... hot temps all day in the 90's and over 100 in Ohio. Hit the Michigan border at 7 p.m. and 93 degree As we got on to I-94 it began to rain and the temp dropped from 90 - 75. Got home around 8 p.m.

On our trip we saw: Birds (Cedar Waxwings, Eastern Phoebes, Finches, Cardinals, Robins, Hummingbirds, Red Wing Blackbirds, Kingfisher, Brown Thrashers), wildlife (a deer, butterflies, raccoon, bunny rabbit, white squirrels, snakes, turtle, trout, dragonfly, bear skat) and an amazing abundance of greenery and flowers in the forest.
Movies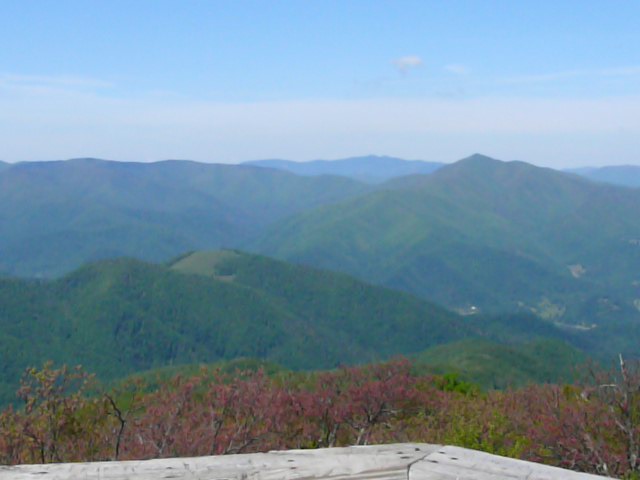 June 2008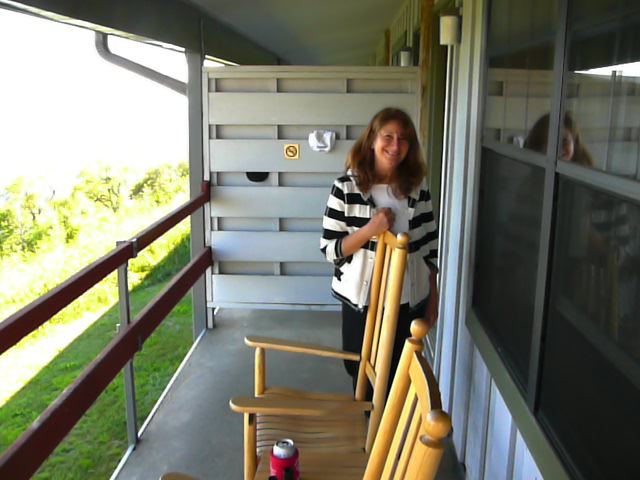 Pisgah Inn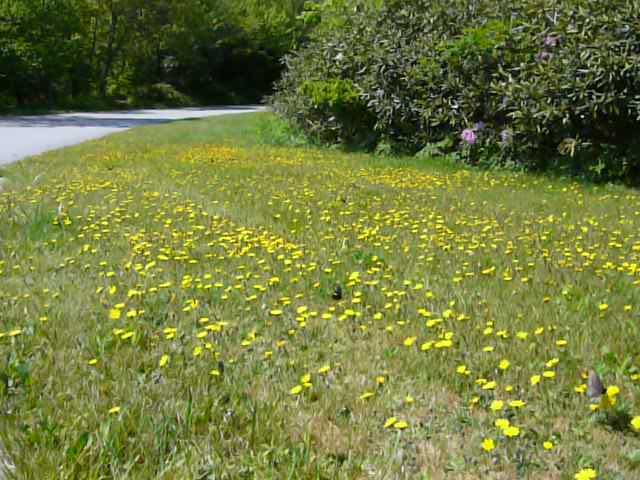 Pisgah Inn
Pictures
| | | | |
| --- | --- | --- | --- |
| Pisgah Mountains | Pisgah Mountains | Cedar Wax Wing | Pisgah Mountains |
| | | | |
| --- | --- | --- | --- |
| Pisgah Mountains | Pisgah Mountains | Pisgah Mountains | Pisgah Mountains |
| | | | |
| --- | --- | --- | --- |
| Pisgah Mountains | Pisgah Mountains | Pisgah Mountains | Pisgah Mountains |
| | | | |
| --- | --- | --- | --- |
| Pisgah Mountains | Pisgah Mountains | Pisgah Mountains | Pisgah Mountains |
| | | | |
| --- | --- | --- | --- |
| Pisgah Mountains | Pisgah Mountains | Pisgah Mountains | Pisgah Mountains |
| | | | |
| --- | --- | --- | --- |
| Pisgah Mountains | Pisgah Mountains | Pisgah Mountains | Pisgah Mountains |
| | | | |
| --- | --- | --- | --- |
| Pisgah Mountains | Pisgah Mountains | Pisgah Mountains | Pisgah Mountains |
| | | | |
| --- | --- | --- | --- |
| Pisgah Mountains | Pisgah Mountains | Pisgah Mountains | Pisgah Mountains |
| | | | |
| --- | --- | --- | --- |
| Pisgah Mountains | Pisgah Mountains | Pisgah Mountains | Pisgah Mountains |
| | | | |
| --- | --- | --- | --- |
| Pisgah Mountains | Pisgah Mountains | Pisgah Mountains | Pisgah Mountains |
| | | | |
| --- | --- | --- | --- |
| Pisgah Mountains | Pisgah Mountains | Pisgah Mountains | Pisgah Mountains |
| | | | |
| --- | --- | --- | --- |
| Pisgah Mountains | Pisgah Mountains | Pisgah Mountains | Pisgah Mountains |

If you want more info write to: jeffdils@yahoo.com