Cruises 2011
We asked ourselves what we could do to get away from winter, love to do, but still be reasonable priced? We chose a couple of Caribbean cruises. Both cruises were around $500 per person, per week which seems like a great deal for room, board, entertainment, exploring, and relaxing in the warm (inside cabins, $161 standard tips per week, drinks, excursions, souvenirs, airfare extra).

7 day Southern Carribean on the Grand Princess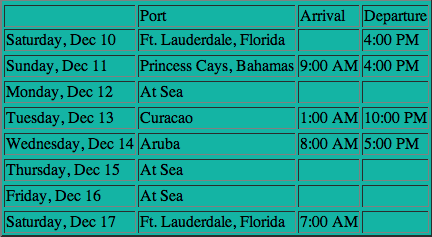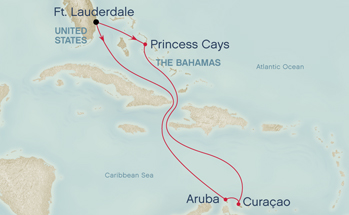 Our Grand Princess cruise was very relaxing. We went to dining room three times, buffet the rest of the time. We really did our own agenda, not posing for pictures, missed the Captain's party, not rushing off the boat at ports, and just walking around and exploring at our own pace until tired and then heading back to the ship to relax. We watched Green Lattern, Source code, and Just go with it at the movie under the stars throughout the week. Elliptical machine for exercise three days. Laying in the shade in the aft area away from the pool bands and noise most of the time.

Tried eating more fish, salad, fruit and smaller samples of many things, and guess I ate at least twice my normal intake. Left home at 187 lbs. and won't be surprised if I come back 10 lbs. heavier after two weeks of food at every turn (came back 4-5 lbs heavier). Oh well, I will diet and eat regular when home...

Fifth cruise with Princess (45 days) so we got to the platinum level for our next cruise with Princess which gets you a few perks like 150 minutes of Internet time, priority boarding and private lounge for platinum or higher cruisers. You become platinum with Carnival on your 10th cruise and this was our fifth (36 days).

Below is my comments for each stop in bold and the ships comments under that.

Princess Cays, Bahamas
This was a beach stop, with lunch served there if you wanted. There was not much to see or do, so we got back on the ship and relaxed there after an hour or two of looking around, and sitting on the beach.
Join us at our exclusive port of call, Princess Cays, where you'll enjoy a private beach party on the island of Eleuthera in the Bahamas. One hundred miles long and only two miles wide, Eleuthera offers unspoiled beaches. Our private resort at Princess Cays is situated on more than 40 acres and features over a half-mile of white-sand shoreline, all at the southern tip of the island. The resort boasts outstanding amenities while carefully preserving this natural paradise. Take in the views from the observation tower. Enjoy a barbecue. Sip a cool drink or browse the shops and the local craft market. All of Princess Cays' facilities are linked by walkways. Recreational activities abound. Enjoy volleyball and a full range of water sports, or simply relax on the beach. Note: Snorkel equipment, sea boards, floats, kayaks, paddle wheelers, the banana boat rides, aqua chairs, beach clamshells, bungalows, etc. can be pre-reserved. Please be advised that all activities at Princess Cays, including equipment rentals and water sports, are sold on a NO-REFUND basis. For a nominal charge, lockers are available to store personal items ashore.


Curacao
This was our first time here, and it was a nice stop to walk around and see the sights, which we did for 4-5 hours. The souvenirs and shops were not exciting to us as they seemed like the same as other islands. We walked through a fort, across Queen Emma Pontoon bridge, and did sight seeing until we were almost lost. We saw many things including statues, a farmers market, floating market, shops, interesting graffiti and waterways. We did have to reorient ourselves to get back as we wandered a long ways.
Historians still contend over which European adventurer first spied the largest island in the former Netherlands Antilles. Some historians claim the honor for Alonzo de Ojeda; other historians champion Amerigo Vespucci. Little does it matter; today's travelers are content to bask beneath sunny skies cooled by the trade winds. Lying some 40 miles off Venezuela, boasts a landscape that is dramatic, stark, and volcanic. In contrast, Willemstad, the capital, seems a cozy Dutch haven with its neat row houses. And while those gabled and tiled roofs illustrate the island's heritage, the bright, pastel houses speak pure Caribbean. Islanders themselves reflect this same colorful contrast: over 50 different nationalities have come to call Curao their home.


| | | | | |
| --- | --- | --- | --- | --- |
| Fort RIF | Curacao | Queen Emma Pontoon bridge | Curacao | Curacao |
| | | | | |
| --- | --- | --- | --- | --- |
| Curacao | Curacao | Curacao | Curacao Movie | Curacao |
| | | | | |
| --- | --- | --- | --- | --- |
| Curacao | Curacao | Curacao | Curacao | Curacao |
Aruba
Was a rainy day so we stayed close to the ship and only went out for a few hours. Better shops here than Curacao, jewelry, electronics, clothing, souvenirs, etc. to sell you on all these islands.
Dutch influence still lingers on this balmy Caribbean island, part of the former Netherlands Antilles until its independence in 1986. Aruba is a contrast: the island's arid interior is dotted with cactus and windswept divi-divi trees while secluded coves and sandy beaches make up its coast. Aruba's long and colorful heritage is reflected in its dialect. Called Papiamento, it is a tongue that combines elements of Spanish, French, Portuguese, Dutch, African and English.


| | | | | |
| --- | --- | --- | --- | --- |
| Aruba Movie | Aruba | Aruba | Aruba | Aruba |







We were able to walk from the Grand Princess to the Carnival Freedom as the Grand docked next to Freedom on our return. They disembarked us at 8:45, we picked up our bags, went through customs quickly, and rolled our bags to Freedom by 9:00. Waiting a bit, then through security at 10:00, boarding at 11:30, able to get in cabin at 1:30.



7 Day Eastern Caribbean on the Carnival Freedom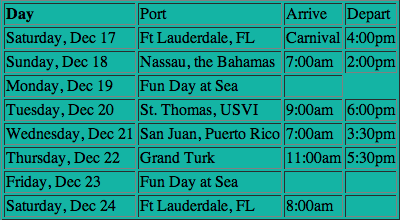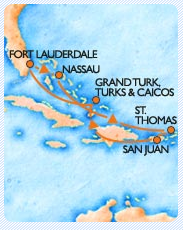 Nassau, The Bahamas
We walked a long way, touring the island away from the downtown strip (a lot was closed due to us being there early on a Sunday). We saw the Government House, some scenic decaying buildings, a cigar house, historic water tower, Fort Fincastle, and the queens steps.
It's easy to see why Nassau, the capital of the Bahamas, is also one of the most popular ports in the Caribbean: picture an idyllic place with stretches of perfect white-sand beaches, gracefully swaying coconut palms offering oases of shade, and warm, crystal-clear waters revealing the secrets of incredible multi-colored marine life. Whether you spend the day shopping for duty-free gifts and mementos, taking a carriage ride past sorbet-colored buildings, or touring in a glass-bottom boat, chances are you'll leave this happy place in the Bahamas with lots of beautiful memories.


| | | | | |
| --- | --- | --- | --- | --- |
| Nassau | Nassau | Government house | Government house | Providence house |
| | | | | | |
| --- | --- | --- | --- | --- | --- |
| Nassau | Nassau | Fort Fincastle | Fort Fincastle | Water tower | Nassau |
| | | | | | |
| --- | --- | --- | --- | --- | --- |
| Queen's staircase | Nassau | Nassau | Nassau | Nassau | Nassau |
St. Thomas, USVI
It was a cloudy day with intermittent showers. We jumped in and out of shops for a while, dropped of the Grand Marnier, ruffle shirt, and headphones we purchased when heading in for lunch. We headed back out and caught a local taxi ($1 versus $4 for the tourist taxi) to downtown, went to a old synagogue which was interesting with sand on the floor symbolizing the sand on the floor when worshiping in basements in secret and the 40 years in the desert. This was the first day of Hanukkah. We hit many more shops and I purchased another souvenir shirt (my weakness). Then another taxi back as the rain started again.
Pirates once roamed the alleys of this beautiful island, which is today besieged by a treasure trove of shopping options. But there's more to this shopper's Shangri-La than an international grab-bag of perfume and electronics. This U.S. Virgin Island also claims not only one of the world's most beautiful beaches - the heart-shaped Magens Bay - but a world-renowned golf course and simply spectacular nightlife. You can don a snorkel to explore coral reefs bright as a wildflower meadow, or take in the amazing views on a soaring aerial tram ride to Paradise Point. You'd be surprised at just how much of the above fits into just 32 square miles!


| | | | | |
| --- | --- | --- | --- | --- |
| St. Thomas | St. Thomas Movie | St. Thomas | St. Thomas | St. Thomas |
| | | | | |
| --- | --- | --- | --- | --- |
| St. Thomas | St. Thomas | St. Thomas | St. Thomas | St. Thomas |
| | | | | |
| --- | --- | --- | --- | --- |
| 99 steps | St. Thomas | St. Thomas | St. Thomas | St. Thomas |
San Juan, Puerto Rico
Since we have walked around here a couple times before, Lynn booked us a rental car from enterprise and they picked us up by the ship. We drove to the El Yunque tropical forest which was a 45-60 minute drive, following there semi accurate directions. We paid $4 each to get into the welcome center, but you can just drive up and explore without paying if you want. A map is available (web) that you can plan and print in advance.
We did not plan for rain (being a rainforest, you might expect some), and did not bring shoes for hiking the trails. We drove up slowly, stopping at the sights and lookouts to look around and take pictures. Scenic views, bamboo, winding road, trails, waterfalls to see. We were lucky as it did not rain until we were at the top and ready to turn around and leave.
Historic San Juan, once nothing more than cobblestone streets and the distinctive architecture of the Spanish who founded it, is now a modern world capital. Among the peaceful shaded courtyards and commanding colonial fortresses of El Morro and San Cristobal, you'll find a cosmopolitan city of wide boulevards, lively cafes, highly regarded galleries and designer boutiques. This is where the old world meets the new - and you can enjoy them both.


| | | | | | |
| --- | --- | --- | --- | --- | --- |
| San Juan | San Juan | El Yunque | Tropical Forest | El Yunque | Tropical Forest |
| | | | | | | |
| --- | --- | --- | --- | --- | --- | --- |
| El Yunque | Tropical Forest | El Yunque | Tropical Forest | El Yunque | Tropical Forest | El Yunque |
| | | | | | |
| --- | --- | --- | --- | --- | --- |
| Yokahu Tower | Yokahu Tower | El Yunque | Yokahu Tower | Tropical Forest | El Yunque |
| | | | | | |
| --- | --- | --- | --- | --- | --- |
| San Juan | San Juan | San Juan | San Juan Movie | San Juan Fort | San Juan |
Grand Turk
We enjoyed this port, which was mainly a beach and shops if you didn't do the excursions, but there was a good variety of shops, Margaritaville, and a couple other bars close by. We walked the beach, drank some beers, sunned on the beach, and one more shirt for me.
Grand Turk is the largest of the Turks Islands, which are named after an indigenous cactus that actually looks like it's wearing a fez (the Turkish tassel hat). You won't find many fezzes on the island, as there simply aren't that many heads there to wear them! With a population of less than 4,000, what you will find is plenty of room to relax - or swim, dive or fish, and just the weather for doing it; the average temperature ranges from 80-90 degrees Fahrenheit, and a typical year in Grand Turk sees a full 350 days of sunshine. Check out Cockburn Town, featuring a wonderful selection of historical buildings and an unforgettable rustic charm. You'll also find many Colonial-style buildings and ruins, along with The Turks and Caicos National Museum. One of the main draws is diving, and Grand Turk's protected coral reef, which drops to 8,000 feet, is even close enough to shore for beach dives.

| | | | | | |
| --- | --- | --- | --- | --- | --- |
| Grand Turk | Grand Turk Movie | Grand Turk | Grand Turk | Grand Turk | Grand Turk |
| | | | | |
| --- | --- | --- | --- | --- |
| Grand Turk | Grand Turk | Grand Turk | Grand Turk | Grand Turk |
My Grand Princess (2,590 passengers, 109,000 tons) versus Carnival Freedom (2,974 passengers, 110,000 tons) comparisons
Princess had two buffet areas, with a good choice of foods and not much congestion. Horizon court buffet on Grand Princess had many choices, and I usually found something I liked. I did want more spices, sugar, garlic etc. to get more flavor, as I thought many dishes were fairly plain. The staff was very friendly, ready to find you a seat, carry a tray, and readily available to bring you drinks.

Carnivals buffet had four lines (areas) of similar food, a stir fry area, deli area, sushi area (5-8:00 p.m.), Tandoori area, but could use a better workflow on Carnival. Our suggestion would be to copy Princess's buffet as the food was spread out more and did not have long waits. The way Carnival has it, you stand in line waiting. Both had burgers, dogs, fries, pizza and dessert areas. Carnival has more areas, variety of food choices, and for me, sweets desert that are truly sweet, but the flow on Princess worked better with less waiting. The first night on Carnival I had creme brulee and chocolate molten cake and was in heaven eating both.

Rooms - We had inside rooms on both. Carnival was larger with more space in the room and bathroom; two closets instead of one on Princess, samples of bath products (toothpaste, razor blade, body gel) with shampoo and conditioner dispensers mounted conveniently in the shower and the shower head went higher, which is nice for taller folks. Hallways were wider on Carnival which was nice but the walls were less soundproof as you heard more noise (doors closing, people talking, flip flops going by, and even toilet flushing that you did not hear on Grand Princess).

Age of passengers, Carnival (average age in the 30s, probably due to having around 1,000 school age passengers, being on break the week before Christmas) was noticeably younger than Princess (average age was in the 50s). I believe Princess is usually an older crowd and quieter, but we have been happy on Carnival on our five cruises with them. I believe if you book a cruise longer than seven days, and when school is in session you will get an older aged clientele. There was a Serenity area on the bow for 21 and older only on Carnival Freedom at no cost. Princess had a Sanctuary area, which cost $10 per half day, but the ship was already an older laid back crowd so this was more for exclusivity in my opinion.

Work out rooms were similar but Carnival had about 4-6 inches more head room, and at 6'2" I had to stay slightly bent when using the elliptical on Princess.

Long and short, we can't complain about either cruise line but you need to be aware of the pros and cons of both.


My pros for Princess are:
-less chaotic
-buffet had better layout, less waiting, and better flow
-had more staff ready to assist you
-more quiet areas
-better soundproofed rooms
-more refined decor

| | | | | |
| --- | --- | --- | --- | --- |
| Grand | Grand Aft | Grand | Grand | Grand |
| | | | | |
| --- | --- | --- | --- | --- |
| Grand | Grand | Grand Princess | Grand Princess | Cabin A324 |
My pros for Carnival:
-larger rooms, bathroom and halls
-better food and more options
-headroom in workout area and shower
-seemed to be more seating
-younger crowd and kids if you are one

| | | | | |
| --- | --- | --- | --- | --- |
| Carnival Freedom | Carnival Freedom | Cabin 1-334 | Cabin 1-334 | Serenity area |
| | | | | |
| --- | --- | --- | --- | --- |
| Serenity area | Carnival Freedom | Carnival Freedom | Carnival Freedom | Serenity area |