Cruise 2012
We were not home for long from our last great get away and emails started coming showing great deals on future cruises. I took note of an 11 day cruise for only $699 per person leaving in March (only 2 months away), with a lot of stops, and leaving out of Miami. I told Lynn and she got excited also, so she called and put a courtesy hold on the cruise, checked airfare prices, and I emailed to see if my work would OK the time off. We got positive feedback from work and the airfare rate was good, so we started to seriously consider this cruise.

Lynn did some more checking and found we could book through vacationstogo.com and also receive $150 on board credit and two bottles of wine if we booked through them. We talked it over and decided this would be a good time to get away from winter, let me run our boat in Key Largo, see our friends, and told ourselves we would keep our vacations for the rest of the year more modest in time away and cost (camping in a tent anyone?). We love cruises and we kept cost down (booking our normal inside cabin, using sky miles, etc), but in reality it all adds up. Oh well, I won't sweat it any more as it will be a great time, and as far as I know you only live once so enjoy life as you go, or as a tee shirt I saw in the cheesecake factory in Israel said, "Life is so uncertain, eat dessert first."

During the cruise we talked to a couple couples that had been able to book the cruise for $499, by booking in the last couple weeks since the cruise still had openings and lowered the rates. This wouldn't work for us as we need a house/pet sitter set up in advance, I need to get approval from work, and we need to book airfare. Both couples were able to drive to the ship.
11 day Southern Caribbean cruise on the Norwegian Dawn
This is our second cruise with Norwegian our first was 10 years ago.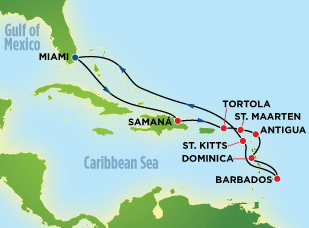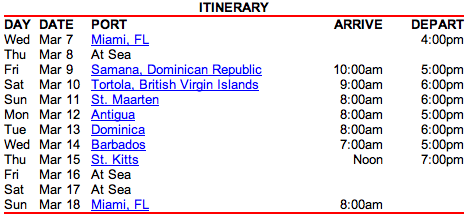 I will add my notes in bold, pictures, etc. once we are back. Italic is the some cruise critic suggestions Lynn is gathering, and the ships info is below in regular typeface.
Samana, Dominican Republic
Well, we did not get off the ship in Samana. The captain altered course due to rough seas and hugged the islands to help protect us. This put us there at around noon instead of 10:00. Lynn was feeling real tired so she went back to bed after we had done some exercise and breakfast. This was also a tender port and we did not get a tender ticket, so by the time they got to open tender it was already 2:30. The ship was tendering to Cayo Levantado (usually a excursion) and locals ferried you to Samana. Since you have to be back by 4:30 we figured it wasn't worth getting off to turn around and wait in line to tender back. Cayo Levantado looked similiar to Princess Cay, a beach stop, so we relaxed on the ship.
As we sailed away we saw a few whales shooting water in the air through their blow holes and as we were talking to another couple a whale breached behind us.
Lynn's cruise critic's notes: Low impact Culture, Beach & Waterfalls in El Valle area $65pp Tours with Terry or Get a good taxi driver it will be a rewarding trip. The Taxi drivers are very helpful and courteous. Make sure to ask for one that speaks English and you should be good to go. We had 5 people in our group for $20.00 /person for 3 hours. One last thing as a point of interest, when you pull into port, look to the left on the hill and you will see a large resort it is called the Gran Bahia Principe Cayacoa it is a gated resort and if your taxi driver has connections he could get you in. We did visit the resort and the view is great.
Samana is a touch and go if you go to the main island, however we did the "caves and mongraves exploration" and they picked us up at the ship and took us to the national preserves and saw some of the most amazing sites I HAVE EVER SEEN! Dont let the word "caves" scare you... its not what you might imagine but I would do this excursion time and time again if I were to ever visit.
Samana is a peaceable town with brightly colored houses nestled in hillsides filled with coconut trees. Nearby Cayo Levantado has thick forests and scenic beaches. Those lucky enough to visit in January and February will witness humpback whales mating and bearing young in the waters off the coast. . . . Language: Spanish . . . Currency: Dominican Peso (DOP)

| | | | | | |
| --- | --- | --- | --- | --- | --- |
| Samana | Cayo Levantado | Cayo Levantado | Cayo Levantado | Cayo Levantado | Cayo Levantado |
Tortola, British Virgin Islands
We got off the boat and went over to Smith's and Speedy's ferry's to go to Virgin Gorda. Both quoted us $38 for the ferry and taxi combo package. We went with Smith's due to it leaving sooner. Speedy's looked like a newer, faster, catamaran but we would have to wait another 1/2 hour. Entry fee at the Baths was $3. We went with Cathy and Dan Wrench who we had briefly talked to on the ship when they recommended the ships show, and as we were standing in line to depart they hear Lynn's research and thought Virgin Gorda sounded fun. It did turn out to be a fun day with some good site seeing, but be prepared for climbing, bending and ducking under and around boulders. When you got to the beach they did have a locker you could rent to keep whatever you didn't want to carry around. I bumped my head on one of the rocks, nothing serious, just another scab for a few days. There were places to swim or snorkle but we did not feel like it, even though we had brought our snorkles. After climbing around exploring we headed back up the hill and had some drinks and snacks by the pool/restaurant where the safari taxi picks you back up. As far as rating the stop, I would give it a C+, Lynn a B+.
Lynn's cruise critic notes: TAKE WATER SHOES, You take the ferry from Tortola to Virgin Gorda (the ferry is 30 minutes long each way), and then you take a short bus ride to the Top of The Baths. It takes about 10 minutes from the harbor in an open-air bus to the Baths and Devil's bay. From the Top of the Baths, you have to walk downhill a fairly short distance (walking at a SLOW pace - it will take 10-15 minutes). The path downhill, not bad, not too steep, one or two places are a little uneven. Most people can do this if they are careful and wear the PROPER FOOTWEAR (running shoes or GOOD sport sandals - NO flip flops.
We like to take the water taxi over to Virgin Gorda and go to The Baths. You walk right off the ship and go directly on a boat waiting right on the same dock. We purchased the ferry/taxi package for $30 per adult. At the Baths the entry fee is $2 or $3. Sometimes there is a Smith's rep hanging around the parking lot by the pier. He will sell you a good combination deal - return ferry + open air taxi (return) to the Baths on Virgin Gorda - KEEP your taxi slip for the return ride from the Baths.
Speedys $30: to Virgin Gord: Sat: 10:30, noon, 13:30, from Virgin Gorda: 12:40 and 15:30
Smiths $30: to Virgin Gord: 10, 12:30 from Virgin Gorda: 15:00
Key to Using the Map
A. Beach. Dinghy landings are prohibited, but there is a dinghy mooring and you can swim to the beach.
B. Shrubs. You may leave snorkeling equipment while exploring the boulders. Also, site of vendors selling T-shirts and shells.
C. Poor Man's Bar. Sells drinks, hamburgers, T-shirts.
D. Trail to taxi drop-off, about a 7-minute easy walk.
E. Snorkeling is quite good in this area for fish; also, to the north where you can find Elk Horn Coral formations. West of the dinghy landing.
1. Entrance. You'll have to crouch and waddle like a duck here!
2. Shelf Boulder. Note fault through top of adjacent boulder to right of this boulder.
3. North Cabe. Note deep holes caused by uneven erosion. Also, note the size of this boulder, one of the largest here.
4. "The Baths." A great photo opportunity! Notice on the huge boulder to your right the beautiful markings caused by chemical reaction of rain water (weak carbonic acid) with minerals.
5. The Throne. Another fun photo opportunity.
Snorkel to Norman Island
We took a catermaran to Jost Van Dyke bay! Its a great ride because you get to see so much of the island and even St. John on the ride to the beach. Its a remote beach that you actually swim too (not more than 200 ft.) so its not over crowded and is ABSOLUTLY STUNNING!
Tortola is small in size, but huge in natural beauty. The island is capped with bold mountains and fringed with breathtaking beaches. The prime sites here are Cane Garden Bay and Sage Mountain National Park. Other options include snorkeling, diving and glass-bottom boat rides. . . . Language: English . . . Currency: US$

| | | | | |
| --- | --- | --- | --- | --- |
| Smith's ferry | Virgin Gorda | Virgin Gorda | The Baths National Park | Virgin Gorda |
| | | | | |
| --- | --- | --- | --- | --- |
| Virgin Gorda | The Baths National Park | Virgin Gorda | The Baths National Park | Virgin Gorda |
| | | | | |
| --- | --- | --- | --- | --- |
| Virgin Gorda | The Baths National Park | Virgin Gorda | The Baths National Park | Virgin Gorda |
St. Maarten/St. Martin
We were getting off the boat in Philipsburg to start to explore and heard Dan and Cathy call from behind, so we walked to town together. We had walked around the Dutch side on a previous cruise, so we decided to take the bus to the French side. We walked together to town (10 minute walk or $3 van ride) to catch a bus, passing a goat on the hill along the way. For $2 the van took us to Marigot near Fort St. Louis and walked up to it for some great views and pictures of the bay. We met a nice family at the fort (with three girls, two twins) that were on our ship and recommended and pointed out Sarafina's down in town.
After looking around we walked down to town and went to Sarafina's for some pastries. They were great, we had a chocolate croissant, sandwich, beer, chocolate cake and iced coffee. There were some vendors by the water, so I bought a t-shirt for $5.
After a bit of a wait, we caught another van to Grand Cas for $1.50. We walked the beach and stopped at Captain Frenchies for a couple more $2 beers while looking at great beach views. After a little more exploring we caught a van back to St. Martin for $3 per person. I rate this stop an A with plenty to see and do.
Lynn's cruise critic's notes: Car rentals: We always rent from Triple A, a local company and no issues. We will rent from Arthur's on our March cruise as they rent from the pier. Many, many local companies have wonderful reputations on the island. We usually walk downtown and turn down Old Street (off of Front Street which is the main street that runs along the waterfront. At the end of Old Street is a bus stop and you usually don't have to wait long for one to come along. We tell the driver where we want to go and sit back and enjoy the ride. You pay the driver when you reach your destination. On the way back, walk out to the main road and just wave down any bus that has P'burg in the front window. It will drop you on Back Street or anywhere along Salt Pond Rd. The buses are just long vans. There are no real bus stops, you just flag them when you see them. Often they have where they are going on a sign on the dash or you can ask the driver if they are going where you want.
Anyone wanting to go to the French side on their own can go ONE block over from Front street to BACK street and catch the local bus. It's $2 bucks per person to go there. Simply watch for a van with a sign that says Marigot and signal them. They go right near downtown to Marigot and it's a short two blocks down to the waterfront. You can shop, eat, people watch and return the same way. The bus will have a sign saying Philipsburg. You get on the bus with the locals and they can give you a goldmine of information IF you're not afraid to mingle. You pay the $2 bucks after you arrive handing it to the driver. It's the same route the taxies take.
I would probably head over to Marigot and ask to be dropped as near to the top of the fort as possible and then climb the last set of stairs to the fort. The views are great. You could walk down to the town in about 20 minutes.
Shops on Sundays: There may be many shops open in Philipsburg, especially if there are multiple ships in port, but not all. Shops at the Cruise Facility will be open. If they're really thinking of St. Martin (French side) not many will be open. The big shopping mall near the water in Marigot is now open on Sunday.
On our own Orient Beach
Flying two flags, this island is half-French and half-Dutch. Cruise ships more commonly call on the Dutch side of St. Maarten, known for its shop-lined, narrow lanes and daytime casinos. Island tours, cruising on an America's Cup yacht and snorkeling excursions are offered in Philipsburg. Golfers should check out Mullet Bay. . . . Language: Dutch . . . Currency: Euro(EUR), US$

| | | | | |
| --- | --- | --- | --- | --- |
| St. Maarten | Philipsburg | Marigot | Fort St. Louis | St. Martin |
| | | | | | |
| --- | --- | --- | --- | --- | --- |
| St. Martin | Marigot | St. Martin | Fort St. Louis | St. Martin | Sarafina's |
| | | | | |
| --- | --- | --- | --- | --- |
| Grand Cas movie | Captain Frenchies | St. Martin | Grand Cas | Grand Cas |
Antigua
We got off the ship (which docked in St. John's) about an hour after arriving and waded through a lot of over eager taxi/tour operators. As we walked, low and behold we were walking right behind Cathy and Dan. We were starting to believe some force was putting us together, so we hooked up again to explore. We did as suggested below and went to the bus stop got on bus 22 and got off at the Darkwood beach. We met Ronald who was there to rent chairs. There was a beach and a 2 story restaurant bar with great views that Dan and I sat at for Wadadli beers and fries while Cathy and Lynn walked the beach picking up some sea shells. Ronald also turned out to be multipurpose as he brought us our orders.
After the women got back and had a drink also, we walked back down the road to the Valley Church Beach. The beach was beautiful with spectacular views. We went to the Nest Bar/Restaurant and Lynn and I shared a cajun fish dinner, 2 beers for $23 with the automatically included tip. We met the owner's wife (Elvis had left the building) and had a relaxing time. The internet went out so they wanted cash, but since we had confirmed they took credit cards in advance, they manually charged our bills.
Back out to the road to flag down bus 22 ($3 per person, each way) to go back to town. From the bus station we walked back through town and stopped for some rum raisin ice cream, yum! Everyone loved it, except Cathy who did not want any. I would rate this stop a B.
Lynn's cruise critic's notes: You walk two blocks from the cruise ship to Market Street. Turn right and walk about 1/4 mile, bus terminal will be on your right across from the public market. Take the #22. Ask the driver to let you know when you reach Valley Church Beach. You'll be dropped off near a large sign for the Nest Bar/Restaurant. Beach is on the opposite side of the street from where bus dropped you off. Follow the path to beach. 5 minute or so walk. Coming back is easy as bus stop is on the opposite side of road from where you were dropped off. Buses look like small vans and hold 15 passengers.
Take bus #22 ($3 ea way for 2). It's about a 15-minute walk from the pier (you can distinguish the buses from the taxi's by the bus number usually located in the front windshield) to Valley Church Beach. This place is incredible! Postcard perfect. Long lovely beach and an open-air restaurant with full bar. Elvis is the man who owns and operates the restaurant and owns the land. There are very basic rustic but clean restrooms a short walk away from restaurant along with an open air shower for rinsing off salt water. We rented beach chairs for a few dollars each, it is put on our tab. Swimming was great, lots of shells and such. We had a great lunch of salad, curried chicken (best we have ever had) and garlic bread along with two beer, one very strong rum punch (get Elvis to put a lot of juice in it as it is very strong, I was tipsy after a few sips) and a coke. Lunch, drinks, chairs cost us about $40 US, which was an amazing deal for all we got.
Valley Church and Turners are only about two miles apart, 10 minutes at most on the bus. You have time to visit both and make up your own mind. There are more beaches in between, such as Darkwood, which you could stop off at too. The road runs behind the beaches, so access is easy. Darkwood is definitely closer to the road than Valley Church. Turner's Beach is also on the bus #22 route after Jolly Beach, Valley Church and Darkwood.
On the north side of Dickenson Bay, you'll find more secluded beaches and some ideal snorkeling areas along the fan-shaped northern crown of Antigua.
Kayak and snorkel
The largest of the British Leeward Islands boasts 365 beaches and crystal-clear waters. History buffs will want to tour Nelson's Dockyard National Park, where one of the great admirals of the 18th century kept his fleet. The island draws a huge yachting crowd during Sailing Week in April and is perfect for windsurfing, water-skiing, sailing, snorkeling and diving. . . . Language: English . . . Currency: EC$, US$


| | | | | |
| --- | --- | --- | --- | --- |
| Antigua | Antigua | Antigua | Darkwood beach | Wadadli beer @ Darkwood |
| | | | | |
| --- | --- | --- | --- | --- |
| Valley Church Beach | Valley Church Beach | Valley Church Beach | The Nest Beach Bar | Bus station |
| | | | | |
| --- | --- | --- | --- | --- |
| Finishing Rum Raisin Ice Cream | Antigua | Antigua | Antigua | Antigua |
Dominica
Off early today as Lynn made plans to go with Reyno tours for a $50 per person multiple stop tour which included entrance fees into Champagne reef and Trafalgar Falls. We had mentioned the tour to a couple other couples, but as it turned out only Dan and Cathy Wrench showed up. Looking backs, we did all our excursions with Dan and Cathy, our new buds. It is funny how we just kept ending up together, had a lot of similar life experiences, were compatible, and kept having a great time. From this point forward we started making plans together. Reyno was great as I thought they might try and hussle a few more people up last minute, but no, they took off with only the four of us in a van that could take eight. Alec, our driver, stopped as we were on our way so we could say hi to the owner, Reyno that Lynn had confirmed the tour with.
So it was only the four of us and our guide/driver Alec. Our tour included going through Dominican Botanical Gardens, Morne Trois Pitinos National Park (which had a rain forest), and Roseau the Capital City that we docked at. Alec was great as he stopped whereever we requested for pictures. From there we went to Titou Gorge walking along the pumping station and water line that ran the hydo power generator. Cathy, Lynn and I braved the cold water and swam in the Gorge, while Dan stayed back, being a self proclaimed non-water person. We rented flotation belts for $2 just in case. We quickly got use to the water temperature and and swam through the Gorge to a waterfall. The current was a bit stiff there so we came back. If I was not treading water with my camera in one hand, I may have gone further. Later I heard there was a nice spot beyond the falls, but didn't know it at the time.
From there we went to Wotten Wooven where the sulfur spa's are located and stopped at Tia's sulfur spa's. Another recommended spa "Screws spa" was busy, so Alec tried this one and it was great. We had the place to ourselves for 45 minutes of the hour we were there. There was also private areas you could go in and close the door (maybe how screws got its name?!). We were in the back which had three different areas and we ended up in the middle one that had the hottest water. The spa water definetly had minerals as you couldn't see through it, but it did not smell like sulfur and it felt great. It was also only $5 per person at Tia's, Screws would have been $10.
Back on the road after sharing a beer at Tia's office/restaurant. We stopped for lunch at River Rock Cafe and Bar, Alec recommended and shared a tuna lunch plate and beer that seemed like someones mom had cooked it and it was great. Actually I think the cook was the waitresses mom (family restaurant).
We then headed towards Trafalgar Falls which had a $5 entrance fee, if I remember correctly. The walk to the Falls was somewhat tricky, expecially if you are not comfortable with heights and slippery rocks. I was the only one of our group to go all the way to the falls, and I was a bit nervous that I would slip as my feet got wet and you need to climb on and around bolders.
On to our last planned stop, Champagne Springs for snorkeling. Lynn and I had brought our mask, so we went snorkeling while Dan and Cathy relaxed up top on some louge chairs. The snorkeling was nice, and we saw yellow sponges, urchins, a flouder, parrot fish, a sea cucumber, sargent majors, butterfly, damsel, smappers, file fish, etc. It was also interesting to see bubbles coming from the ocean floor in many places. I had slipped getting in and scrapped my leg, second small wound of this vacation for me. It is rocky, slippery, and shallow when you first get in, until you are deep enough to swim. After snorkeling a while we came back, took a shower, got dressed and headed back. On the way we mentioned if Alec knew of any rum raisin ice cream as it was on the mind of Dan and Lynn. He said yes, and went past the boat along the shore to a place he takes his kids. Again it was great. Then back to the boat, pay and tip Alex and the day exploring was complete. All told we were on tour probably around 7 hours for $50 per person, tips, and misc entry fees. A great day, and a A rated island stop from me.
Lynn's cruise critic's notes: Snorkel & bring aqua shoes
We really enjoyed Dominica, and highly recommend you take advantage of a local tour company to see as much of the island as you can as it is really beautiful.
Most ships dock at Roseau Cruise Ship Berth. It is located right in town and literally just steps away from shops, restaurants and transportation. Downtown Roseau is within blocks of the dock and offers a local fruit and vegetable market that many say is the best in the Caribbean, as well as local arts and crafts stalls. A bit further from the pier but still within walking distance is the Dominican Botanical Gardens where you can catch a glimpse of the rare Sisserou parrot without going all the way to the park to see it.
One of the least developed Caribbean islands. As a result, it has one of the lowest hassle factors, and lots of beautiful unspoiled nature spots and hiking. Also one of the only surviving populations of Carib indigenous people.
If you are of the aquatic inclination, try Champagne Springs snorkeling! 20 minutes from the cruise terminal to what you could very loosely call a "beach". There is no beach, just rocks pebbles and boulders. Go to the far end of the bay for the best bubbles. The entrance to water is a little dangerous ,the swell can knock you into the boulders but once in the snorkeling is well worth it. Bubbles come from the sea floor, the further left you go the more bubbles. It is a unique experience . You can snorkel on your own or hire an onsite guide* (recommended) Go when it is sunny.
This beach is located 1.8 miles from Soufriere Sulphur Springs , On the southern coast of Dominica. Champagne is close to Pointe Michel, so walking the town is a definite option.
Whale watching good in March & beginning of April
Beno Tours rated better than Reyno; I would not book with Reyno again. He seems more concerned with filling his vehicles than honoring his commitments.
Trafalgar Falls, the Emerald Pool, Mr Nice Fruit Stand, Middleham Falls, Titou Gorge, a black sand beach and snorkeled at Champagne Reef. Carib Territory
Screws Spa? We took a taxi to Screw's Spa for $20 for 2 people. It's only about 15 minutes from the port. This is the most relaxing thing we ever done on a cruise. The surroundings and stone work are gorgeous and the pools are so warm. I could have spent much longer than an hour here. The taxi driver gave us an hour. I think it cost $10 each to get in. There was only 10-12 people there during our visit and we enjoyed it immensely...
Public Transport is readily available in the form of the ubiquitous mini-bus (look for number plates that begin with 'H'); the Old Market in Roseau is the 'terminus' for busses travelling south; the West Bridge for those travelling north. Fares are set by the government:
Sample Bus Fares (EC$)
Roseau to:
Calibishie $9.50
Canefield $2.00
Carib Territory $9.50
Grand Bay $4.50
Laudat $3.50
Loubiere $2.00
Marigot $9.50
Pointe Michel $2.00
Portsmouth $8.00
Scott's Head $4.00
Trafalgar $2.75
Layou Valley Tour- beautiful Rain Forest
**Took the Dominica Jewels Tour in December 2011. Donaldson did not ask for payment in advance. I highly recommend doing as much as you can in Dominica. We felt really good about how we spent our time on this tour. It was exhilarating but not exhausting. It was $45 pp. At the falls and the gorge, you had to pay a small entrance fee that was not included in the tour. Champagne Reef snorkeling was awesome. My guess is that the group would split up if only some wanted to snorkel. Donaldson changes the order of the attractions as needed and is very accommodating. I would say yes, it's worth going with the local chap.
Hired a driver to take us to Screw's Spa and to Champagne Beach. Screws Spa at Wotton Waven; For only $10 US, this value of this place can't be beat! We visited Screw's after hiking to the Boiling Lake, and I credit the hot pools with our ability to walk properly the next day. They are open from 10 a.m. to 10 p.m. daily except Mondays. very unique hidden gem in the rain forests of Dominica. An hour or so is plenty of time there; they say to wear a dark suite, I think it has to do with the sulpher maybe? think if you went directly there (we have yet), it might be 45 minutes to an hour. The cost depends on the size of the party. This year I think we paid $10 pp. I think the cost for one or two people is $20pp.
River hike to Sari-Sari falls
"The Nature Island" takes pride in its lush rain forests, the vast Morne Trois Pitons National Park, rare birds and the only remaining Carib Indian Tribe. The focus in this unspoiled land is on ecotourism, and excursions take tourists on walking tours of the renovated Cabrits fortress or on hikes through the rain forest in search of rare parrots. Jeeps are available for rent for those who want to make the scenic drive from Portsmouth to Roseau. . . . Language: English . . . Currency: EC$, US$
| | | | | |
| --- | --- | --- | --- | --- |
| Dominica | Dominica | Dominica | Water pipes | Titou Gorge |
| | | | | |
| --- | --- | --- | --- | --- |
| Dominica | Titou Gorge | Dominica | Steam | Tia's sulfur spa's |
| | | | | |
| --- | --- | --- | --- | --- |
| Dominica | Tia's sulfur spa's | Dominica | River Rock Cafe & Bar | River Rock Cafe & Bar |
| | | | | |
| --- | --- | --- | --- | --- |
| Trafalgar Falls | Irie Safari | Snorkeled here | Rum Raisin Ice Cream | Dominica |
Barbados
After looking though cruise critic, nothing grabbed us as far as a specific excursion, so we decided to catch the local bus and explore. After walking along the port and exploring the port shops, we headed outside the port area. Many taxi drivers tried to get us to book a tour with them, but we walked on until it started to sprinkle, then we ducked in to have 3 Banks beers for $5. Lynn also bought some spices, and we exchanged some quarters for dollars with one shop owner who wanted change in the area. On to the bus station and paid $1 US for the bus ride that took us along the West coast, North to Speighton. It was a long ride and interesting to see the sights along the way. It was a high density area with many houses and buildings along the way. I got the impression that it was mix of rich to low income as we passed where Tiger Woods was married along the way.
Once in Speighton we searched for a restaurant to have Flying Fish, that Dan was recommending and remembering from a previous trip. In our search we happened to find rum raisin ice cream, so three of us endulged again. As we explored and walking around the streets, Cathy slipped and twisted her wrist, but luckily found ice at a fish market quickly, and had no damage the following day.
From there we ended up at La Bouche and we shared flying fish dinners $14 US or $28 BBD, and ordered Piton beers for $1.75. Nice having normal priced drinks as all drinks on the ships are usually $7-9. The fish was good, mild and the views at the restaurant were great also.
After eating we decided be better start back as the bus ride to 45 minutes and we weren't sure of how many stops would be on the way back. It turned out school was letting out on our way back, so a lot of kids were also getting on the buses and it was standing room only. Luckily we had gotten on first at the bus station in Speighton. I would rate this stop a C.
Lynn's cruise critic's notes: Mt. Gay Rum Distillery tours start 9:30 a.m. and run on the hour; $7 45 min.
Agapey chocolate factory tour: The factory is located downtown in Bridgetown very close to the cruise ship pier, south of Mount Gay Rum Distillery and just south of the Atlantis Submarine. All details and directions will be provided upon reservations.
Meeting Location: For cruise ship passengers
We are located behind the cruise pier terminal. It is about a 10 minute walk. Please be advised that a part of the road to the factory does not have sidewalks. Taxis are located outside the entrance - please ask how much to the factory BEFORE getting into the cab. By taxi, it's only a 1 minute taxi ride. Barbados is a very safe and a friendly island and very easy to get around.
The Mt. Gay Rum tour is great though - and lots of free samples
Yes, there are local buses you can ride. There's a bus stop about 200 yds.outside the gates of the Port (turn left at the roundabout and walk 200yds.) which will get you buses Northbound along our West Coast, but you gotta stick your hand out to stop the bus or he'll sail straight past you! (local culture)
We found the bus took us pretty much wherever we needed to go. Plus you get the added bonus of entertainment, especially riding the white ZR's. No better way to meet the locals and have some great conversations. Most are friendly and more than happy to help out with directions or recommendations...
Two types of buses service Barbados. Blue buses with yellow stripes are government-owned; their smaller, yellow and blue-striped counterparts are privately-owned. Fares for both types are $0.75(USD) and exact change is required.
The main difference between the two types of buses found on Barbados is that the privately-owned minibuses tend to have shorter routes, enabling them to pick up passengers more frequently. On the other hand, government buses take riders a little farther from the central hub of town - ideal for travelers interested in doing some sightseeing. Buses service most stops every 20 minutes, and both types generally post their destinations on the front of the bus. Locals will tell you that it's a good idea to flag the bus down with your hand, even if you are standing at the stop.
You can arrange a tour where the ship docks. It's probably best to walk outside the port area to the round-about to arrange a taxi tour because the taxis inside the port area are usually more expensive.
Paynes Beach is where most of the tour boat go The site is just off shore Another is Carlise Bay Beach is closer to the ship dock . Yes you can take a taxi or bus. These turtles are all in the wild We will be in Barbados and will be snorkeling at Paynes and Carlise Beaches This Jan.
I love love LOVED Hunte's Gardens Our fine gardens and nursery are open daily, so simply come over and visit us. Admission is $20 Barbados Dollars / $10 USD per person, and includes drinks.
Full day Land Island tour (private company found on Trip advisor, Glory Tours )
With its natural caverns and flower forests, Barbados lends itself well to roamers. City tours of bustling Bridgetown are popular, as are island tours that show off the estates and plantation homes of the countryside. Other options include a rum party cruise or submarine ride. . . . Language: English . . . Currency: Barbados dollar, US$

| | | | | |
| --- | --- | --- | --- | --- |
| Barbados | Barbados | Barbados | Barbados | Barbados |
| | | | | |
| --- | --- | --- | --- | --- |
| Barbados | Speighton | Speighton | Speighton | Flying fish lunch |
| | | | | |
| --- | --- | --- | --- | --- |
| La Bouche | Barbados | Barbados | Barbados | Bus station |
St. Kitts
As you get off, there are many taxi/tour operators trying to take you somewhere. A few of the locals had monkeys with diapers on them. I heard you have to watch your jewelry as the monkeys may grab and eat it, which gives the owner a prize in the diaper down the road. Who knows if it is true, we kept walking into the many shops right off the dock.
We explored the shops and then started enquiring with drivers on how much they would charge us to take us to the Caribelle Batik Factory and then on to the Marriott in Frigit Bay. We started at $60 and agreed with one for $45 plus tip for the four of us. Lynn was at the Batik factory on one of our previous cruises and got a lot of use out of her purchases. Cathy and Dan had a gift certificate for the Marriott and offered to buy lunch. Also there was a casino there and Dan was itching to gamble a little.
The ride to Caribelle Batik factory was nice and scenic, our driver and his vehicle a bit worn, but they had character. The Batik factory, at Romney Manor, had very nice grounds, gave demo's of how they do the wax to make the patterns, and we were there about 90 minutes as I encouraged Lynn to get a couple dresses. I knew she loved them, and as a bonus, her birthday coming up was a good excuse. Of course the cruises are usually a present to ourselves for some occasion.
Off to the Marriott which was a very nice and scenic spot. Lunch was very good, and I had some very hot, hot wings. My lips were burning, but the beer was good and so was the rest of our lunches. Very nice of Dan and Cathy to buy, and after looking around a little, we headed to the casino to catch up with Dan, who was trying to win us some money at the slot machines. We again started to run out of time, as we had talked with our driver about picking us back up and taking us back to the ship (another $12 plus tip). Even though we did not do a lot, I would give this stop a B just since it was less busy and scenic.
Lynn's cruise critic's notes: Caribelle Batik Studio in St. Kitts The Caribelle Batik Store, located a little over a mile northwest of the port, at Romney Manor, offers clothes made from the distinctive fabrics produced locally.
Brimstone Hill - World Heritage Site - lovely restored fortress, perched high on a hill. The views are amazing. The entrance fee is $8.00 US dollars.
The view from Timothy Hill (both directions) - one of the most outstanding photo ops in the Caribbean.
For $20 per person you can get a 3 hour tour around the island. There is a large group of tour guide/drivers waiting about 100 yards from the ship..
Bus transportation on St. Kitts and Nevis is unscheduled and sometimes unreliable, but buses are plentiful in the capitals. Buses near the ferry terminal in Basseterre will generally take you to the South and West of St. Kitts, while buses found at Baker's Corner will take you east and north. Another fun way of catching the bus outside the city is by flagging it down. Buses do not generally do full circles on either island and may run in one direction. Buses are easiest to catch in the busy mornings and during the afternoon but may be difficult to find past 7 p.m. or 8 p.m. on a weekday. Fares will usually be around $1(USD). Look for buses such as the "Rude Boy," "Zion Train," "Dem Say," and "Reggae Master" with their green license plates for an adventurous experience while on St. Kitts and Nevis. Mini buses are readily available on St. Kitts and are an inexpensive way to see the island. They can easily be flagged down on any route, but if the driver flashes his/her lights it means that the bus is full and he will not stop. The main bus terminal is about 150 yards just west of the port .
St. Kitts is home to some of the best examples of West Indian architecture, all of which is set amid a dramatically beautiful landscape. The best shore excursion is a well-organized island tour, featuring a visit to the 17th-century British fortress at Brimstone Hill and the sites of the capital. The beaches here are magnificent, including Friar's Bay, which opens to the Atlantic and the Caribbean. . . . Language: English . . . Currency: EC$, US$

| | | | | |
| --- | --- | --- | --- | --- |
| St. Kitts | St. Kitts | St. Kitts | St. Kitts | Caribelle Batik factory |
| | | | | |
| --- | --- | --- | --- | --- |
| St. Kitts | Caribelle Batik factory | St. Kitts | Caribelle Batik factory | St. Kitts |
| | | | | |
| --- | --- | --- | --- | --- |
| St. Kitts | St. Kitts Marriott | St. Kitts | St. Kitts Marriott | St. Kitts |
My Norwegian Dawn (2,224 passengers, 92,250 tons) thoughts
Norwegian had a large buffet area on 12 mid to aft. Sometimes there was both sides open, sometimes only one. There was a good choice of foods and not much congestion. The staff was very friendly and kept the tables clean. Occasionally it was nice to sit on the side that was closed for a little more quiet.

I usually found something I liked. I did want more sugar in their desserts, but that kept me from eating them and I filled up on the regular food. They had a good selection of food with some being: indian spices area, pizzas, pasta's made to order, ceasar salad made to order, crepes made to order, waffles with banana foster in the morning, etc. etc. I ate well and was surprised to have only gained one pound when I check on our return home.

Norwegian had a deli area that was also good during lunch with many selections to chose from. We ended up eating in the buffet at least half the dinners and the lunches when we were on board because we liked the variety. They had a couple cookouts at the pool also, one day was seafood pasta that was very good. Things that we would change is: add lemonade as a drink choice, change to just green tea bags, not ones with jasmon, and orange peel mixed in. Lynn did make a comment about the green tea and they had it loose in the oriental restaraunt and would send us some to the room whenever requested, nice!

Rooms - We had inside rooms on both. Room 10507 which was smaller than Carnival, and probably smaller than Princess as it seemed to not have enough drawers that were easily accessible. No free bathroom samples as with some cruise lines, but the bathroom seemed good size.

Age of passengers was good from some young to some old, but most in between. It was an 11 day cruise which normally works better for older cruisers.

Work out rooms were nice and seemed less crowded than Princess or Carnival. Maybe those Norwegian cruisers were sleeping in, but we got a machine right away, every time we went.

Other notes: no self serve laundry on board this Norwegian ship. We had planned to do one load to reuse the essentials like underwear, but had to improvise. Dress code on Norwegian was more casual than Princess or Carnival; you could enter the main dining room any night as long as you didn't have flippers and shorts on. Even then, I saw them let someone in with both. It was nice, but I should have packed a little different as I didn't need multiple black slacks or the two dress shirts and ties I brought.


My synopsis on the Norwegian Dawn:
-less chaotic, it seeemed like the ship wasn't full, but it was
-narrow bedroom hallways like Princess
-good fairly soundproofed rooms
-small room, good size bath
-buffet had good layout, and good flow
-had many staff keeping silverware stocked and tables clean
-ship could use some more quiet areas, the one forward was nice, but not a lot of shade and we did not like all the glass wind block walls up front obstructing the views
-more casual dress than other ship lines
-a lot of specialty restaurants (we did not go)
-food was good with a lot of choices
-fun, lively, tasteful decor
-better entertainment than most
-good workout room

| | | | |
| --- | --- | --- | --- |
| Norwegian Dawn Buffet | Norwegian Dawn | Bath | 10507 Norwegian Dawn |
| | | |
| --- | --- | --- |
| Norwegian Dawn | Norwegian Dawn | Norwegian Dawn |




If you want more info write to: jeffdils@yahoo.com