Jan. 2014 cruise & Florida friends visits
We were planning a vacation around April but upcoming work and family events changed our plans to a quick getaway in January. We chose a short Caribbean cruise which also allowed us to see friends in Florida and get a little warm. We needed a break after having below zero weather the beginning of January (down to -16 degree Jan. 6th and snowfall around 18" Saturday-Monday). The cruise was around $400 per person which is a good deal for room, board, entertainment, exploring, and relaxing in the warm (inside cabins).

We started our break by flying to Ft. Lauderdale Friday Jan. 17th, and getting a rental car around 4 pm. Lynn scheduled a nice dinner with Michal, Scott, Mariann and Gary (the women were elementary and high school friends) at Seasons 52 in Ft. Lauderdale and then we stayed one night at La Quinta a hotel not too far from the port.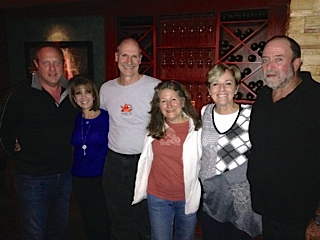 Friends at Seasons 52
5 day Southern Carribean on the Ruby Princess

Saturday, Jan. 18
We boarded around noon and were able to go directly to our cabin, B407 which was a nice inside cabin. This was a surprising good deal for a cruise as they were having a special that gave you your cruise price (minus taxes and port charges) towards a future cruise as long as the next cruise is taken before the end of Dec. 2014, so we will probably be booking another with Princess before too long. This was our sixth cruise with princess and qualified us as Platinum members with a few more perks like 150 minutes of wifi free, and priority boarding. Next level is after 15 Princess cruises, so it may take a while since we cruise with multiple cruise lines.

First night we did movie under the stars, which we really enjoy on the Princess cruise ships. We watched Jobs about Steve Jobs life and the evolution of Apple. It was a nice night snuggled under a blanket outdoors and they came by offering popcorn, pizza, and even milk and cookies.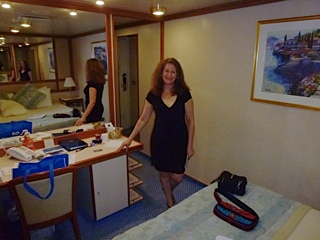 Cabin B407, Baja Deck Level 11
Sunday, Jan. 19
It was a nice sea day and we watched football playoffs (Seattle vs San Francisco, and New England vs Denver) on the big screen outside in the day. At night it was the only formal night on this short 5 day cruise. I dressed up with a tie, but not what I would qualify as formal without a Jacket. In any case we were dressed better than normal and Lynn looked good.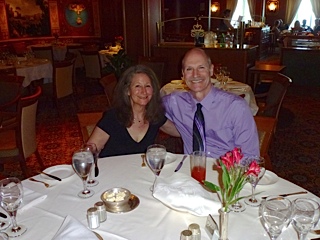 Formal night
Cozumel, Mexico, Monday, Jan. 20
We got up early, ate and may have been the first passengers off the ship. We asked how far to the ferry and were told a long walk around 20 minutes. We walked to town where the ferry to Playa Del Carmen left from and it turned out to be around a 50 or 60 minute walk. We were worried we would miss the ferry leaving at 8 am, but found out when getting there that it did not leave until 9 am. So we got tickets (around $26 for two, one way) and waited a bit. It was a nice ride over and they even had someone playing music although we could not hear well since we chose to sit in the back outside the overhang. Two ferry companies run back and forth and the next two times coming back were 1 pm and 3 pm on the other ferry line. We needed to catch the 1 pm so we could look around Cozumel a little and get back to the ship without worrying since we needed to be on by 3:30.

Once at Playa Del Carmen we walked to Mamitas beach which was around 20 blocks through a lot of shops and many salespeople trying to sell us their wares. The weather was nice in the high 70s. We rented a couple chairs on the beach and I had a couple dos equis amber beers. On our walk back to the ferry Lynn bought a coconut that was macheted open for her to drink the water.
Once back in Cozumel we caught a taxi back for around $10 and then bought a couple souvenirs in the shops by the ship before re-boarding.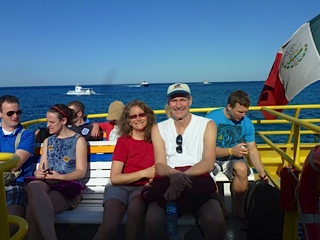 Ferry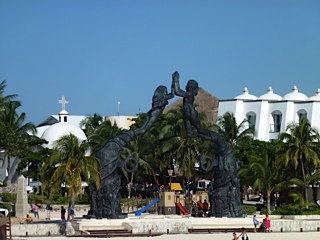 Playa Del Carmen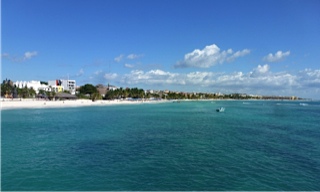 Playa Del Carmen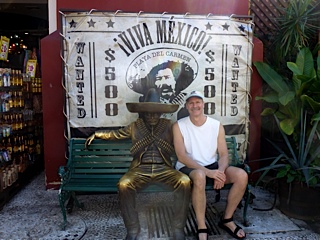 Playa Del Carmen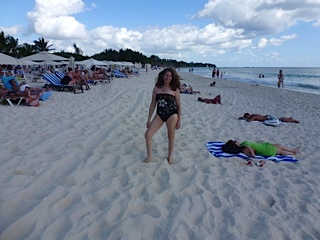 Mamitas beach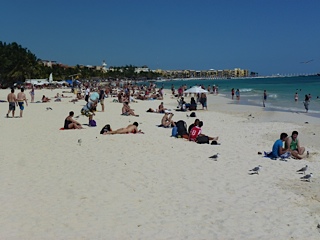 Playa Del Carmen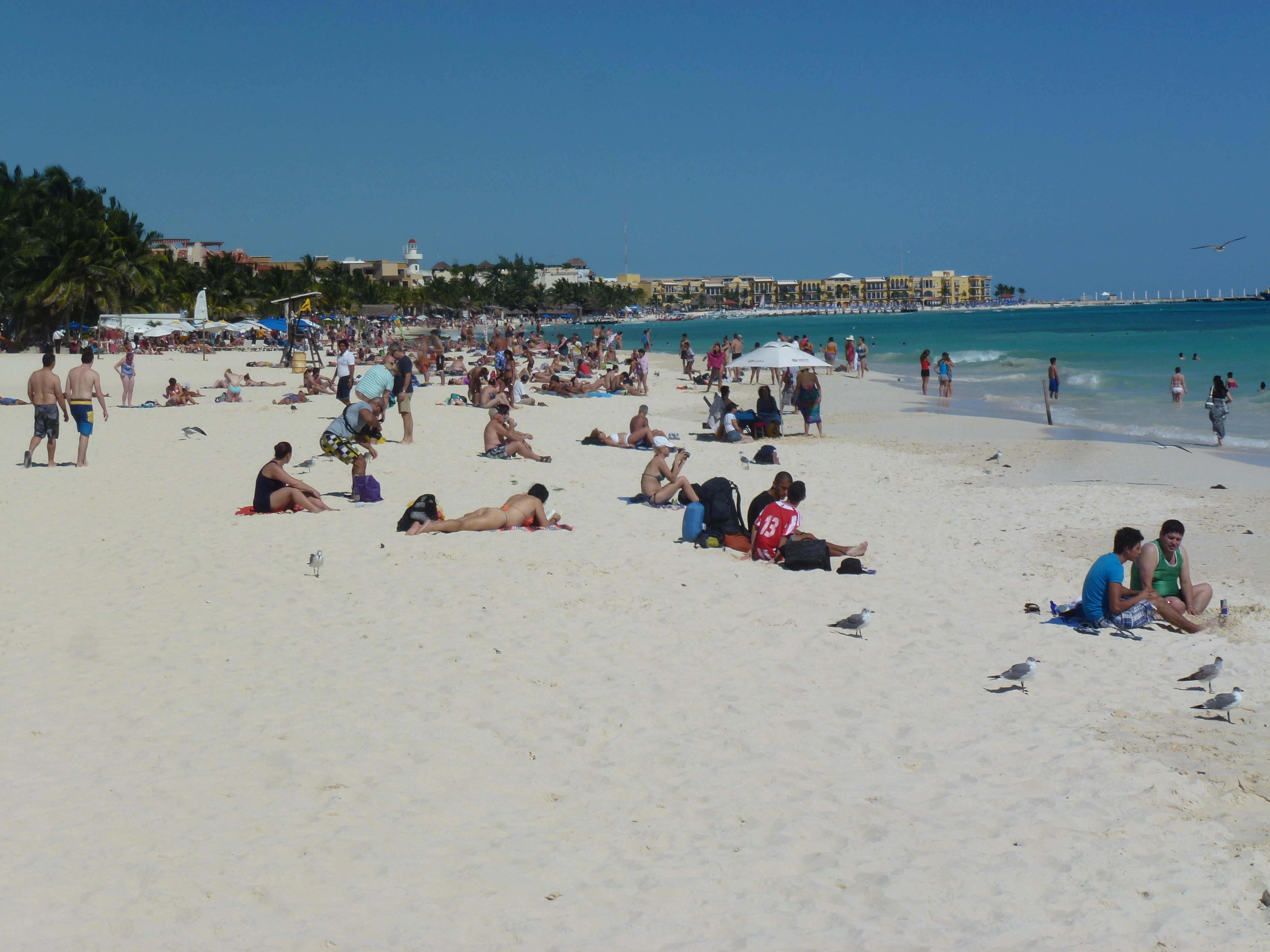 25 meg beach movie
Grand Cayman, Cayman Islands, Tuesday, Jan. 21
We made sure we got in line to get the first tender to Grand Cayman which turned out to be easy as they had a large local tender that held a lot of passengers. Once dropped off we called Lynn's friend and past customer Barbara Levey who came and picked us up to have lunch with her, Ed, her son Kenny and wife Lisa. We went to her store the Book Nook and then to lunch nearby at Hemingway's. After lunch and a short tour Barbara and Ed dropped us off back in town so we could do some shopping or site seeing. It was sunny then cloudy and we had just stopped for a rest and a beer at Paradise bar when it started raining. We stayed one beer more (both to me as Lynn wasn't drinking), and the rain stopped so we could get back to the ship. We were back early, 5 pm and headed to dinner and then to watch the comedy show.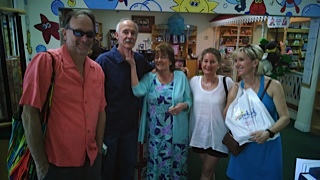 Book Nook & friends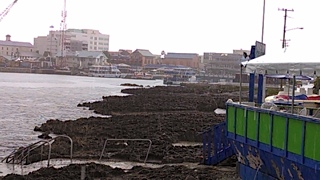 Grand Cayman


Grand Cayman 18 meg movie
Wednesday, Jan. 22
This was a sea day and the night before my stomach started bothering me. I don't know if I ate too much, as I was sampling a lot of food, or I caught something, but this day I was exhausted and could not do the treadmill like I wanted to or even sit much. I could not eat anything more than a little watermelon all day as the food had no appeal and my stomach ached a little occasionally. I had to lay down most of my day, from laying on a lounge chair outside to sleeping in the cabin most the day. Lynn rested also while taking care of me and I could tell was a little worried as I seemed to have a fever also. I was worried I would need to find a hotel room to quarantine myself, versus being able to visit our friends in Florida the next couple days.

Florida Keys, Thursday, Jan. 23
Luckily when I awoke, I felt rested, not hot and my stomach allowed me to eat breakfast again. I was surprised this hit me so hard and left so fast, but was happy it did. We did self walk off and caught the shuttle to the rental car, and then made our way to Key Largo to stay the day and night with our good friend Linda Hinkin. After checking in at the Hink Inn and finding out Linda had chores to do and was not going with us to lunch, we headed down to Lazy Days in Islamorada with Lynn's friends Gloria and Erica. The food and company was great as always and Erica gave us an update on the shops around on our drive. We saw some manatees swimming behind Erica's office, then dropped off Gloria before heading back to catch up with Linda. Went all went for sunset at the tiki and bumped into Harold, Rick, Tony and Etta. When the mosquitoes started their dinner, we headed in for ours. We picked up Num Thai, visited more with Linda, catching up on what was happening in Tim and Linda's lives, then we turned in for the night.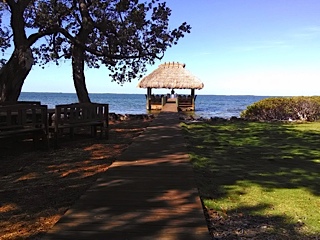 Key Largo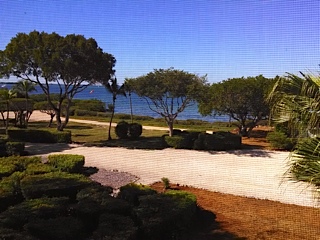 Key Largo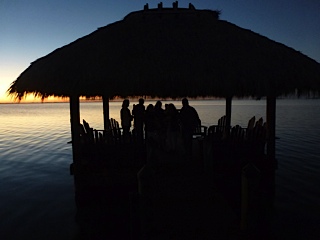 Key Largo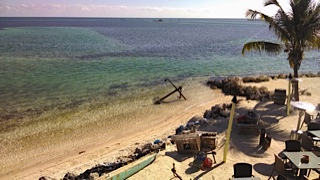 Lazy Days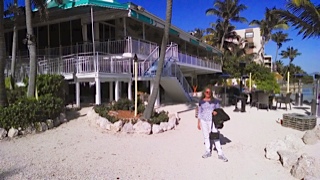 Lazy Days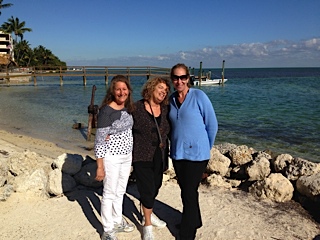 Friends at Lazy Days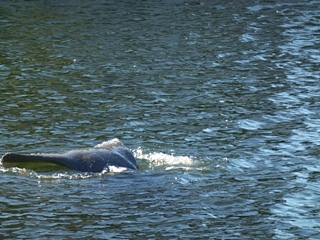 Manatee
Friday, Jan. 24
After showering and packing, we were off early to see our good friends Dwight and Jan in Miami. We stopped at the Hideout restaurant for breakfast and then caught up for a couple hours before going to lunch at Black Point Ocean Grill in Homestead, stopped to see their bike rest area, and we headed out for Chinese food at night. It was nice catching up after not seeing them for four months. Dwight was just getting over fighting a virus for weeks and Justin was not feeling well the day before or during the night (flu). Up at 6 am to head to the Ft. Lauderdale airport and turn in our rental car before catching our 10 am flight. It was a smooth trip and once back we caught up with the home choirs and prepared for the next blast of cold as we heard it was to be -11 Monday and Tuesday night coming up. Welcome back to cold and snowfall records in this brutal January 2014 winter.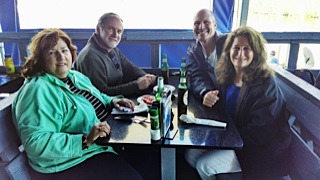 Friends at Black Point Ocean Grill



If you want more info write to: jeffdils@yahoo.com