Delayed 30th anniversary getaway on the Crown Princess
Time for another getaway, so we planned this 7 day cruise with some new areas to explore and a chance to see some California relatives.

We first locked in at $1,670 for both with $295 worth of various on board credits. Just before we had to make our final payment we saw a 4th of July sale for $1420 with $270 on board credits ($25 each from future cruise purchases, $75 each from new offer, $70 total from Costco) so we locked in and made our final payment. Lynn shot an email out to friends about the sale and Henry and Cheri booked and may join us if the timing works. Airfare was so so at $400 each after $50 discount for getting another CC each from Delta and booked back in April? In July Lynn booked our airport shuttle transfers with Prime Time Shuttle between the airport and ship for around $38 total per trip.

I requested vacation time, we booked the airfare, contacting the house/pet sitter John, so we can leave without excessive worries. We are planning Saturday to Saturday Oct. 3-10th.

This is our eigth cruise with Princess, and will get us up to 64 days with them. We are still in the Platinum level (over 5 cruises) and get a few perks like some wifi included, etc. I think you need 11 to get to the next level with Princess.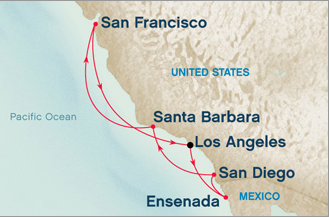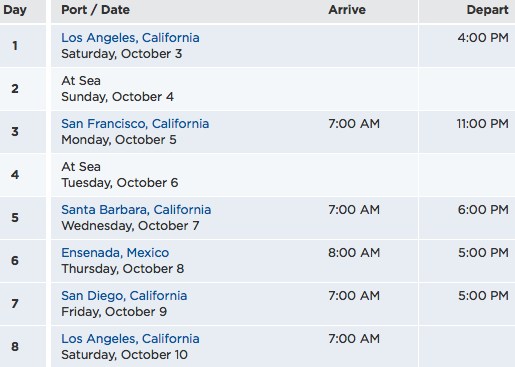 Detroit to Los Angeles via Delta Airlines
Up by 5 a.m. Saturday to drop off our car at Valet Connections and catch our 8:30 a.m. flight. We flew Delta to Los Angeles and caught Prime Time Shuttle to the port. Traffic was not too bad on Saturday although getting off at the port exit took a while.

We got to the ship which was at a temporary dock (Berth 54 at the Port of Los Angeles, located at 2350 S. Miner St., San Pedro, CA, returning we came back to Pier 93, located at 100 Swinford Ave.) at 12:30 California time and were able to board right away. Cheri and Henry had stayed in town the night before and were about a half hour ahead of us boarding. We were able to go to the room right away, drop off our carry on luggage and then were off to the buffet and caught up the Cheri and Henry.


The ship left at 5:15 pm and the weather was 77 degrees. We sailed away and met for dinner in Da Vinci Dining Room, deck 6, table 444. Unfortunately the table was right under a air duct and froze us. We requested to move but they were all filled up. Luckily we found a card in our room reserving a new table for us in Botticelli Dining Room which we went to starting Monday since we had reserved anytime dining later Sunday.


Click on any picture for a larger image or to play a movie
| | | |
| --- | --- | --- |
| Room B416 | Deck 15 & 16 Midship | Deck 17 |
Cruising north for one sea days
Sunday was 63 degrees and partly cloudy. We walked around and found some seats on deck 7 to relax in for a while. Later in the day there were football games were on the big screen by the pool, the weather was nice and we laid out for a while enjoying the . The Crown Princess was delivered in 2006 and has a max passenger capacity of 3,599 passengers and 1,201 crew. Length 950', breadth 118', draught 27.8' and 113,561 tons. A very big ship but it did not feel crowded. The decor was nice and no complaints about the ship. There were good choices for food and we ate breakfast and lunch on the ship at the buffet ending up sitting 15 aft above the pool and dinners in the dinning room (5th and 6th floor aft).

Click on any picture for a larger image or to play a movie
| | | | | | |
| --- | --- | --- | --- | --- | --- |
| Bonnecelli dining room | Deck 7 | Promenade stairway | Breakfast on the Horizon Terrace | Large breakfast | Margaritta |
San Francisco, California
We got off around 8:00 and called our relatives to plan our meet up. We walked to the Ferry Building about 3/4 a mile from where the ship docked. We explored until Sandy then Adam and Debbie showed up. We then all had breakfast, explored a little more and got in Debbie's car to go to Muir Woods and see the big redwoods. Lynn's senior park pass got four of us in for free and we only had to buy one at $7. The Redwoods were very old and large (see the rings info on one tree that fell below).

Adam had heard of the Muir Woods Trading Company Cafe on "Best Thing I Ever Ate" on the Food Network, the episode on Hidden Treasures and Tyler Florence had said the Grilled Cheese & Tomato Soup was his, so Adam bought us all one to share. My souvenir of Muir Woods was a t-shirt. After exploring the trail and trees for a while, we headed to Muir beach for about an hour. There was a warning to stay out of the water, but not all there were listening or aware.

From there we went to Sausalito about 3:00 for a lunch at Kitti's Place restaurant a Tai restaurant who stayed open late for us and Jessica joined us there. It was a good lunch (drucken noodles for Lynn and I, tofu and chicken). We headed into downtown Sausalito for a quick tour and stopped for a scoop of ice cream. Weather during the day was about 64 degrees but getting colder when it was time to take off and meet Josh for dinner about 6:00. Jess was taking off also and dropping off Sandy to return along the way. Jess caught us before we left the parking lot and she had a nail in her driver rear tire. So I put her spare on for her and we were all off. We were not very hungry since we ate late and had ice cream but we wanted to spend time with Josh after his work day. I had a couple beers and we got to visit more. Then they dropped us off at the pier to get back on our ship.


Click on any picture for a larger image or to play a movie
| | | | | | |
| --- | --- | --- | --- | --- | --- |
| Art | Muir Woods | Tree Age | Redwoods | Muir Woods | Muir Woods |
| | | | | | |
| --- | --- | --- | --- | --- | --- |
| Muir Woods | Muir Beach | Muir Beach | Jess, Adam, Lynn, Debbie | Sausalito | Sausalito |
| | | |
| --- | --- | --- |
| Adam, Jeff, Lynn, Josh, Debbie | Under Golden Gate Bridge | Leaving Golden Gate Bridge |
Santa Barbara, California
This was the only port we had to tender to. We got off a little later to avoid the rush. The weather was a comfortable 72 degrees. There were seals swimming around here and at Ensenada. We walked along the shore and went out on the Sterns Warf. After having a ice cream on the pier we headed the courthouse downtown. We went down the main street (State St.) to the courthouse, stopping along the way to look in many shops. Cheri and Henry purchased a Fazzino artwork, and Lynn and Cheri found a shop that would make custom eye glass chains out of beads in a short time. The courthouse had nice architecture, paintings, telework and views. We stopped to have some indian food and then headed back to pick up the eye glass chains and then to the ship.




Click on any picture for a larger image or to play a movie
| | | | | |
| --- | --- | --- | --- | --- |
| Tendering | Seal | Ship & Shore | Beach | Panoramic |
| | | | | | |
| --- | --- | --- | --- | --- | --- |
| Courthouse | Courthouse Hall | Looking up | Stairs | Clock workings | Jeff, Lynn, Henry, Cheri |
| | | | |
| --- | --- | --- | --- |
| Rooftop | Courthouse Roof View | Courthouse Garden side | Indian food lunch |
Ensenada, Mexico
We planned a bus tour to La Bufadora a marine geyser or blowhole, but the bus was delaying waiting for more passengers. Not wanting to hang around as Henry had gotten a 2:00 bridge tour that he was able to take us with, we left and found a taxi for the same price $15 each for the four of us. In front of the blowhole is a line of shops making up the flea market. As usual all the shopkeepers were trying to pull you in. On our way out we started looking a leather (crocodile boots). They started at a price of about $700 a pair and I think we could have gotten them for about $100 per pair. We tried them on, bargained a bit, offered $150 for two pair, but mine didn't fit my calf well (too large) and Lynn started thinking about how much we would really wear them.

The spout of sea water is the result of air, trapped in a sea cave, exploding upwards. Air is forced into the cave by wave action and is released when the water recedes. This creates the spout, and a thunderous noise as well. It repeats every minute or so with its volume depending on the strength of the waves. La Bufadora is one of the largest blowholes in North America, often shooting upwards more than 100 ft. above sea level.

This was our southern most stop and the temperature was around 82 degrees.




Click on any picture for a larger image or to play a movie
| | |
| --- | --- |
| Going to dock | Going to blowhole |
| | | | |
| --- | --- | --- | --- |
| Farming tuna | By La Bufadora | Flea market | La Bufadora |



After taking our tour to La Bufadora and exploring the flea market, we boarded and got ready for our tour of the Crown Princess's bridge.

| | | | | | |
| --- | --- | --- | --- | --- | --- |
| Captain Lynn | Bridge tour group | Bridge looking Port | Bridge looking Starboard | Bridge | Bridge Panoramic |
San Diego, California
We walked off the boat early. We headed down the street asking along the way to find the bus station. We had instructions to take the 215 bus and were the only ones when we got on (you need exact change, $1.10 for seniors, $2.25 for others each way). We confirmed with the driver and he nicely offered to flag us when it was time to get off at the appropriate stop.

The Zoo is fairly pricey but worth the admission. The tickets were $43 each with a AAA discount. Age 65 and over also get the same price. Otherwise I think it was $68 each. The temperature was warm in the sun and 82 degrees. We walked and walked looking at many animals and exhibits. I bought a hat and we shared a water after getting parched in the heat. We were going to ride the skyfari, but it didn't open until 10:00 and was also delayed opening due to technical difficulties so we headed off. We thought about the bus tour, but the line was very long near the entrance. Later in the day we did a short bus ride mainly to get up a hill and a quick rest. When we were nearing the end of our day, we rode the skyfari back to the main entrance area.

We headed back out to the road and waited for the 215 bus. They come every 15 minutes so it was not long a wait. We thought about stopping somewhere for a beer and food, but did not see anything close when getting off the bus, so we headed back on board for the buffet.


Click on any picture for a larger image or to play a movie
| | | | | | |
| --- | --- | --- | --- | --- | --- |
| Lynn at the Zoo | Click for turtle movie | Convict deer | Big cat | Tucan | Polar bear |
| | | | | | |
| --- | --- | --- | --- | --- | --- |
| Unique bird | Panda | Panda | Panda house | Monkey | Hippo |
| | | | | | |
| --- | --- | --- | --- | --- | --- |
| Giraffe | Flamingo | Elephant | Cute deer | Koala | Koala |
| | | |
| --- | --- | --- |
| Click for monkey movie | Zoo map | Skyfari heading out |
My Crown Princess synopsis (notes to come)
-I was very happy with the service. Staff seemed like they were quick to show up and ask you want you wanted when appropriate
-nice decor
-fairly quiet
-nice normal room (B416), OK sized bath
-buffet had good layout, never seemed to busy and we usually headed to the aft which was less busy
-we found some areas to relax in the quiet and shade when needed
-relaxed dress to formal choices
-non pay food was good to me, with a lot of choices, pizza was always available and creme br?l?e every night at dinner :) -there was a specialty area but we only did sushi and mexican there
-didn't get to the shows and only part of one movie under the stars (Jurassic World)
-A bonus with Princess that I did not remember is that you could also use your on board credit for tips, so we did and also bought a few items onboard and still had only a small bill at the end

Back to Los Angeles
We walked off around 8:30 and caught our pre-arranged ride to the airport. It was smooth sailing and we were plenty early as the plane wasn't leaving until 1:45. Lynn checked about getting us together as our seats were apart and we got upgraded to comfort class +. It was nice with good leg room, free movies and more snacks than normal. Home by about 10:30 and stayed up a while unpacking as we were still a bit on California time.

Click on any picture for a movie





LA Pier 93 movie