Royal Caribbean's Navigator of the Seas, Feb. 6th - 14th 2016
Booked in April 2015. We locked in at $1,280 for both of us, wth a deposit of $500. The remaining $780 was due and paid before Nov. 9th.

I was able to book airfare using my AA miles in June, though they moved the flight up in July from pm to am meaning one more vacation day needed. Booked with John to house/pet sit, so we could go without excessive worries.

This was our 20th cruise over the last 20 years (1997-2016). 64 days on Princess, 44 days on Carnival, 32 days on Norwegian and 15 days on Royal Caribbean = 155 days of fun and relaxing cruising.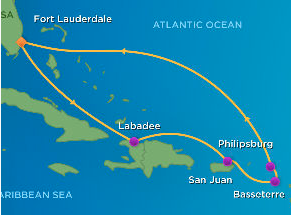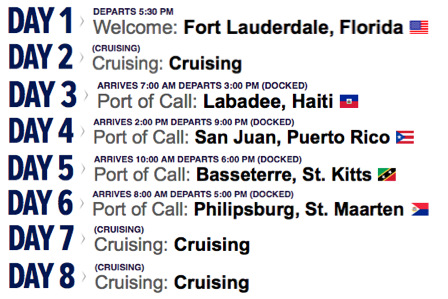 First few days before the cruise (2/2 - 2/6)
Up by 4:30 a.m. Tuesday to drop off our car at Valet Connections and catch our 6:55 a.m. flight. We flew American Airlines Detroit to Miami and rented a car from Alamo to go to friends for the next few days. Alamo also had a shuttle to take us to the cruise port when we returned the car in Ft. Lauderdale. Not bad $95 for four days rental with pickup and return in different locations.

Once we arrived in Miami we drove to Key Largo and got to spend one night with Linda & Mitch. We went to lunch with Linda, Mitch, Gloria and Erica at Lazy Days. After lunch we did a quick stop to see Rick and Pat who were renting a house boat in Key Largo for 10 days. Then off to the Sanctuary to see our tenants and the condo. We watched sunset, talked with new and old owners then made plans to go to Sushi Nami for dinner. Tim, Linda, Mitch and Linda joined us. A good visit and we were up early to head towards Hutchinson Island to stay with Gord and Joan for a few nights with a nice stop and lunch at Micky and Scott's new house on the way.


Gord and Joan had rented a very nice condo in Harbour Isle at Hutchinson Island right on the water. We got to spend some time together and explore a few areas and restaurants (Ocean Grill in Vero Beach, Crawdaddy's in Jensen Beach). I/we made a run to buy a swim suit due to me forgetting to pack one and we picked up some wine and beer while out. Joan also made us some good (vegan) meals and I even worked out in the clubhouse workout room a couple mornings. It was good to spend time and catch up with them until we were off early Saturday to return the car and catch the ship.

Click on any picture for a larger image
| | | | | |
| --- | --- | --- | --- | --- |
| Linda, Mitch, Gloria, and Erica | Michal and Scot | Michal and Lynn | Gord and Joan | Harbour Isle at Hutchinson Island |
Boarding and cruising south for one sea day (Feb. 6-7th)
When we first got on the ship no one was directing us, which seemed strange compared to other cruises. After lunch we made it to our room 7467 which was laid our poorly as you could barely get into the bed without climbing in from the end as it had very little room on either side. The room also had a couple other small issues like having the bathroom sink still having dirt from possibly toothpaste, and tape on the wall. When we called the lines were busy and the call back did not work either. So we headed to the front desk and explained all the issues. Luckily they handled our issues well and even gave us the option to move to room 7605 which we looked at and took them up on. It had a bed in the middle that you could get in easily and had a window overlooking the promenade. Our first night we went to the dining room and met our table mates Jean and Sal who were very nice table companions for the four nights we chose to eat at the 5:30 dining versus the buffet. It was a table for six but no other couple showed up. They had originally put us at the 8:00 dining, but that is much to late for our normal meal time and they were able to switch us. We went to the buffet four nights as it had a better selection, especially as Lynn is now eating vegan. After dinner we went to watch Bassel the comedian who was fun to watch once you got past the long talk from the cruise director. We have been on enough cruises that we generally avoid all the sit down instructions, ship planned activities and information.

Sunday was warm and nice. We did make it to the treadmill and elliptical for exercise in the morning and I knew I needed to burn some of the calories from all the food available on the cruise. We explored the ship which was laid out very nicely from the promenade through the buffet. The superbowl was at night and we found a spot to watch under a overhanging ledge as rain was threatening and by the 3rd quarter had started to come down a little. The Denver Bronco's and Payton Manning won 24-10 over the Carolina Panthers and Cam Newton. Possibly Payton's last game and a chance to retire a champion.

Click on any picture once or twice for a larger image or to play a movie
| | | | | | |
| --- | --- | --- | --- | --- | --- |
| Royal Caribbean's Deck | Royal Caribbean's Promenade | Royal Caribbean's Promenade | View from our window, room 7605 | Royal Caribbean's room 7605 | Looking up by elevators |
Labadee, Haiti (Feb. 8th)
Temperature was comfortable as we got to the Royal Caribbean's private area on Haiti early Monday. We took our time and got off for a couple hours to look around, but decided not to take our swim suits or hang out at their beaches. We took a tour of the Haitian vendors strips of goods, which was a long line of small shops with similar items. We did make a couple purchases as Lynn bought carved river rocks and I negotiated a Peter Max like print (maybe on sail canvas) that had statue of liberty images and reminded Lynn of her brother Mike who collected rare statue of liberty's and even sold a couple to Euro Disney (one was stolen so they bought a second from him). The negotiations started at $175 and ended at $40. It was unstapled from the wood frame it was on and rolled for us to take. We came on board and relaxed by the pool until leaving Haiti. We did make it to formal night this night, but missed the parade put on down the promenade earlier as we did not pay attention to when it was starting.

Click on any picture once or twice for larger images or to play a movie
| | | |
| --- | --- | --- |
| Royal Caribbean's Haiti area | Royal Caribbean's Haiti area | Royal Caribbean's Haiti beach |
| | | |
| --- | --- | --- |
| Royal Caribbean's Haiti walkways | Canvas print | Haiti from ship |
San Juan, Puerto Rico (Feb. 9)
We were in early (11 a.m.) due to a medical emergency on board and able to go on shore by noon. We have been to Puerto Rico before (1999, 2008, 2011, 2015) and have seen the El Yunque tropical forest, Rio Camuy Cave, and Arecibo Observatory previously so we stayed in town and relaxed, exploring the local area.

We walked to the left getting off the ship towards a water front trail which went around the forts. There were many cats and iguanas on the trail and it was a hot humid day (90), but the breeze by the water was nice. After exploring the trail and town, we looked for a good food/drink stop. We ended up eating at Lupis a mexican restaurant that we had ate at on a previous trip. After eating I bought a t-shirt ($15 with 11% tax, probably high due to the current financial crisis there). It was a nice relaxing but full day of exploring.

Click on any picture once or twice for larger images or to play a movie
| | | | | |
| --- | --- | --- | --- | --- |
| Cruising into San Juan | San Juan | Past statues | Past fountain | Statues above walkway |
| | | | | |
| --- | --- | --- | --- | --- |
| Path along water | San Juan Path | Lookout through lookout | Wall info | Wall |
| | | | | |
| --- | --- | --- | --- | --- |
| Cemetery, shoreline, Fort | Looking back to Cemetery, shoreline, Fort | Continuing walk | Towards downtown | Street view |
St. Kitt (Feb. 10)
We have been in St. Kitt before (1999, 2012) so we got off and went right to the Ferry to Nevis that left at 11:00 ship time. The ferry was $21 each way for us and about a 50 minute ferry ride. We walked around Nevis checking out a couple shops and had a Carib beer and iced coffee at Elizabeth's (who came from England) the Cafe des arts and then walked to the baths past the old Jewish cemetery. No charge to get in the water, $1 for a towel to dry off from the hot spring water which was in a small tiled area next to a stream that looked low. We came back to town and had a couple beers ($3) while waiting for the 3:00 ferry back to St. Kitts. Once back Lynn got a couple free jewelry trinkets which she will no doubt give to Clara when she is old enough. Back on the ship after shopping but with no purchases. After our buffet dinner Lynn bought a future gift to give at a sale going on in the promenade.

Click on any picture once or twice for larger images or to play a movie
| | | | |
| --- | --- | --- | --- |
| Pulling into St. Kitt | St. Kitt | Nevis | Nevis |
| | | | | | |
| --- | --- | --- | --- | --- | --- |
| Nevis | Nevis Ferry | On the oldest Caribbean Hotel | Hot spring | by the Nevis Ferry | St. Kitt at night |
St. Martin / St. Maarten (Feb. 11)
We have been here before (1999, 2012) so we decided to catch a group taxi (four for $10 per person w/tip) and again go to Marigot (which is the capital of French St Martin). We walked up to Fort Louis and took some scenic pictures on the hill, then back down to town. We stopped at Sarifina's for iced coffee and I got a couple danish. Then we checked out the local flee market which I broke down to buy a couple more t-shirts ($7 and $5). We then asked where the bus picked up and caught it back to Philipsburg which is the capital of Dutch St. Maarten. Once back I purchased a collared shirt for $10 and Lynn a dress for $15. Good deals for clothing on this island. We stopped for more jewelry trinkets and had a few free beers (except for tipping) at the jewelry shop. We then caught a water taxi back to the ship for $5 each and ate a late lunch on the ship.

Click on any picture once or twice for larger images or to play a movie
| | | | | |
| --- | --- | --- | --- | --- |
| Docking at St. Maarten | St. Maarten | Breakfast before St. Maarten | Traveling to St. Martin | Sarafina's |
| | | | | |
| --- | --- | --- | --- | --- |
| Flee market Marigot | Fort Louis | Fort Louis | Marigot | Marigot panorama |
| | | | | |
| --- | --- | --- | --- | --- |
| Fort Louis | Fort Louis, Marigot | Marigot | Philipsburg beach | Water taxi |
Two sea days (Feb. 12-13)
Up to jog again, then breakfast, sun, lunch and then we found bridge partners Dan and Susan Soroloski in the afternoon. We went to a second formal night with Jean and Sal at table 303 where I had escargot, a couple lobster tails, creme brulee & key lime pie :) Later we went and watched the ice show and Lynn bought some more future gifts in the promenade. This ship had ice skating, rock climbing, putt-putt golf, etc.

The next sea day it was about 75 degrees and we took it easy with breakfast, laying out, bridge at 10:00, lunch, bridge at 3:00 with Dan and Susan then dinner and packing.


Click on any picture for a larger image or to play a movie
| | | | | |
| --- | --- | --- | --- | --- |
| Navigator of the Sea | Deck at night | Navigator of the Sea's ice show | Table 303 | Jeff & Lynn |
My Royal Caribbean's Navigator of the Seas synopsis -nice decor
-fairly quiet except for band in promenade one night
-nice room after our switch, OK sized bath
-buffet had good layout
-we found some areas to relax in the quiet and shade when needed, but other guest were throwing down towels on most seats to reserve them, although they are not suppose to
-relaxed dress to formal choices, I only wore a tie, but no suit coat to formal dinners
-non extra pay food was good with a lot of choices
-did not watch much entertainment to rate it

Off to visit Dwight and Jan (Feb. 14-16)
Off early and picked up around 9. We headed straight to the boat show in Miami which was on the water and had inside and outside areas that could take a couple days if you explored fully It was $20 per person and included a subscription to one of a selection of magazines. It was fun to explore and by lunch time Jan's dad was not doing well so we left so she could coordinate his care. We went to their home and Lynn did our laundry while Dwight and I caught up. We went out for a Tai dinner later and Dwight picked up some for Jan for when she returned later that night.


Monday, Dwight was off to work until 3 and Jan was off to help her father so we relaxed and read some, went for a short walk and Jan was back around lunch as her daughter was going to see her father and he was in for testing for a few hours. We went to Black Point Ocean Grill for lunch and I had a Mahi ruben that was very good. At night we all (including Justin) went to B. J.'s Restaurant which is also a brewery, not bad but Michigan has so much beer selection I am spoiled. The next day up early with Jan dropping us off at the Miami airport for our early departure back home. Wind was brewing but we got out before any issues. It was nice to catch up and visit and good to see Jan's 95 year old father doing better. He had the beginnings of pneumonia and they got him in the hospital early where they were taking good care of him.

Click on picture for a larger image
| | | | |
| --- | --- | --- | --- |
| Flo, Jeff, Lynn, Jan and Dwight | Miami Boat show | Boat show break | Black Point Ocean Grill |



This was a mild winter but it was still good to get away to the warm for two weeks in February to break up the winter and see friends.