Royal Caribbean, Serenade of the Seas Feb. 13-24, 2017
Inside Stateroom - 2007 (lowest rate)
Destination: Southern Caribbean
Departs: February, 2017
Nights: 11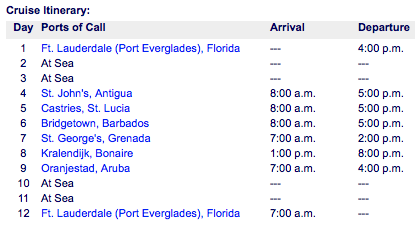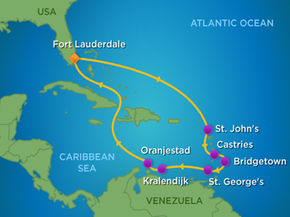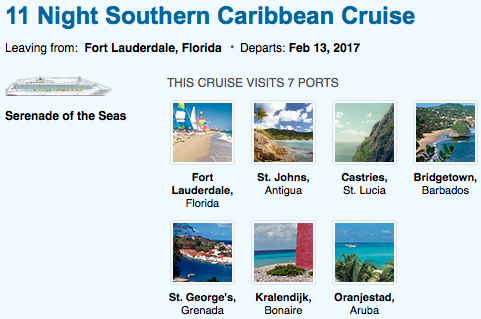 Cruise
This is our 22nd cruise (8/64 days on Princess, 6/44 days on Carnival, 4/32 days on Norwegian, 3/26 days on Royal Caribbean and 1/9 days on Celebrity) = 175 days of fun and relaxing cruising. Counting this cruise, we stay in the gold level which gives some 10% discounts onboard and each card has a buy one drink, get the second free). We will be platinum after 30 days/points with a few more perks.
We deposited $900 with Costco on April 2 to reserve cabin 2007. The cruise total is about $1,941 taxes included. (so $1,041 due November, three months before)
Our onboard credit was $120 for our cabin. We did not use most our onboard credit and Royal Caribbean allows your credits to go to tips, so it reduced our $297 tip (13.50 each, per day). We also booked our house/pet sitter ($350).


Airfare and Lodging
Lynn got a free airfare with sky miles and locked me in at around $310 in April 2016.

Up by 4:00 a.m. Friday, Feb. 10th to drop of our mini van off at Valet Connections and catch our 6:40 boarding, 7:20 a.m. flight. We flew Delta Airlines form Detroit to Ft. Lauderdale airport and rented a car from Alamo when we landed to go stay with friends in the Keys. Alamo did not have a shuttle to take you to the cruise port when we returned the car so we changed our reservation to return the car to the port.
We stayed with our good friends Tim and Linda Hinkin for two nights in the Sanctuary. We hope to reciprocate this summer as they will be in Michigan. We also all went to Lazy Days on Saturday and met good friends Dwight Reynolds and Jan Masters. It was nice to have sunset at the Sanctuary, see friends, have a grill out allowing us to visit with more Sanctuary owners/friends and visit with our tenants. We even got a good walk in Saturday morning to Kmart and I picked up a few more KL hats.
Sunday we were off to have lunch with Joan and Good at the Farmhouse restaurant in Delray beach area. Another nice time of catching up and touring the town. Then we went to visit Michal and Scott Koppleman in Delray and spend one night visiting. They have a great house and it was a nice visit to catch up. I was a little under the weather and had been since Tuesday. Seemed like a viral infection in my lungs. I gave fair warnings and kept my distance. I kept thinking it was going away, but I fought it for most of our vacation, or two weeks total (2/7-2/21) since I first felt it and finally stopped coughing at night or popping aspirins.
Click on any picture for a larger image or to play a movie
| | |
| --- | --- |
| Scott & Michal | Jan, Dwight, Linda, Tim |
Cruising south for two sea days
I was taking it easy, trying to get rid of my self diagnosed viral infection. Lynn did some weights and stretching the first day at sea. We relaxed and read our books, laid in the sun some (with 30 sunscreen), ate, ate, and explored the ship a little.

We had 5:30 dining with a table of six including us. John and Betty who had done 52 cruises and were retired recommended onlinevacation.com as another place to look which had airfare and cruises priced together in some packages. Bob and Diane were the other couple who I think had cruised about as much as us. Unfortunately Debbie and Octav had booked last minute and we could not get a time together. I think we liked eating earlier and them later, but met up a few times during the cruise for a lunch. My guess was the average age was 60, but a variety from young to old as always. I think the longer cruises bring the age up, with who can afford them and who is retired or possibly by who can take the time off by being retired. Our weather for our time away was beautiful. I think the passengers were somewhat average in most were a bit heavier, but maybe 30% seemed trim. Low 80's and sunny almost all the time.


Click on any picture for a larger image or to play a movie
| | | |
| --- | --- | --- |
| Serenade of the Sea Pool | Serenade of the Sea | Diane & Bob, Betty & John |
St. Johns Antigua, 8:00-4:00, Feb. 16
Arrived by 8 am and took the #17 bus from the bus station right of town to Nelson's Dockyard. The bus was $1.50 per person, per trip, so $6 round trip for the two of us. We went with Octav and Debbie to explore this port. To get into Nelson's Dockyard it was $8 per person. Take cash as our experience on Antigua was no one took or wanted credit cards, probably to avoid taxes. Nelson's Dockyard was Britains naval base starting early 1700s and closed by 1889. It was a hurricane refuge, repair dock for a squadron of ships and helped maintain their naval superiority in the area. There was a market place inside, a historic Copper & Lumber Store/hotel and restaurant, The Admiral's House built in 1855, The Officers Quarters and Capstan House, Fort Berkeley plus a harbor for yachts. Many converted to shops.


After looking around we took a water dingy across the water to walk up to Shirley Heights ($8 for two or $16 round trip). It was a medium to hard walk that took us about an hour with stops looking at the views and resting. There were nice views and once ready to depart, decided to look for a ride down and was offered a ride by a driver who had room in his van. We paid the drivers tip to contribute. I bought my first of 3 t-shirts (my weakness) had some water and a few turnovers (pineapple, apple and veggie) from the dockyard bakery.


We all caught the 17 bus back and Lynn and I toured town (I got rum raisin ice cream) and Lynn got a sorbet. Octav and Debbie caught the #22 bus to Valley Church Beach for a beer and swimming. The app I had just put on my phone (S Health) popped up to say we walked 15 miles the 12-18th, with most miles today and then our next two stops.


Click on any picture for a larger image or to play a movie
| | | | |
| --- | --- | --- | --- |
| Antigua | Buses | Nelson's Dockyard | Nelson's Dockyard bakery |
| | | | |
| --- | --- | --- | --- |
| Nelson's Dockyard | Heading to Shirley Heights | Nelson's Dockyard | Shirley Heights walk |
| | | | | | |
| --- | --- | --- | --- | --- | --- |
| Shirley Heights walk | Shirley Heights walk | Shirley Heights walk | Shirley Heights walk | Antigua | Antigua |