Auckland - Sydney, Norwegian Spirit, March 15-27, 2022
Room #: 9559 (inside)
Nights: 12


Cruising
This hopefully will be our 23nd cruise (8/64 days on Princess, 6/44 days on Carnival, 5/44 days on Norwegian, 3/26 days on Royal Caribbean and 1/9 days on Celebrity) = 187 days of fun and relaxing cruising. We enjoy them as you get to see many new parts of the world, different lifestyles, and they pamper you by cleaning your cabin, providing entertainment and making your meals. We also are not claustrophobic like some being comfortable in the small staterooms (usually an inside cabin) which we generally are only in to shower, change and sleep in. A reason our motorhome also works for us, but as we know, different strokes for diffent folks.
We transferred our credit from our cruises cancelled previously due to covid and will still owe $185.58 as the total price is $4,905.78. This includes airfare from Miami

Airfare and Lodging
We added airfare to our package ($899 for both) and will see later what that means as far as carrier and time schedule. We also included transfers (Pre- and/or post-cruise transportation has been booked directly through the cruise line and added to your Costco Travel reservation) so that will be determined later also. We may stay a couple days in Sydney after the cruise which they allow for another $25 per person, but you pay for hotel and whatever else you are doing.


I won't go into much planning at this point as we may change again if needed for family or virus issues, but we are reserved for now............................................
Below is a previous trip that I will modify after the trip...........................
Click on any picture for a larger image or to play a movie
| | |
| --- | --- |
| Scott & Michal | Jan, Dwight, Linda, Tim |
Cruising south for two sea days
I was taking it easy, trying to get rid of my self diagnosed viral infection. Lynn did some weights and stretching the first day at sea. We relaxed and read our books, laid in the sun some (with 30 sunscreen), ate, ate, and explored the ship a little.

We had 5:30 dining with a table of six including us. John and Betty who had done 52 cruises and were retired recommended onlinevacation.com as another place to look which had airfare and cruises priced together in some packages. Bob and Diane were the other couple who I think had cruised about as much as us. Unfortunately Debbie and Octav had booked last minute and we could not get a time together. I think we liked eating earlier and them later, but met up a few times during the cruise for a lunch. My guess was the average age was 60, but a variety from young to old as always. I think the longer cruises bring the age up, with who can afford them and who is retired or possibly by who can take the time off by being retired. Our weather for our time away was beautiful. I think the passengers were somewhat average in most were a bit heavier, but maybe 30% seemed trim. Low 80's and sunny almost all the time.


Click on any picture for a larger image or to play a movie
| | | |
| --- | --- | --- |
| Serenade of the Sea Pool | Serenade of the Sea | Diane & Bob, Betty & John |
St. Johns Antigua, 8:00-4:00, Feb. 16
Arrived by 8 am and took the #17 bus from the bus station right of town to Nelson's Dockyard. The bus was $1.50 per person, per trip, so $6 round trip for the two of us. We went with Octav and Debbie to explore this port. To get into Nelson's Dockyard it was $8 per person. Take cash as our experience on Antigua was no one took or wanted credit cards, probably to avoid taxes. Nelson's Dockyard was Britains naval base starting early 1700s and closed by 1889. It was a hurricane refuge, repair dock for a squadron of ships and helped maintain their naval superiority in the area. There was a market place inside, a historic Copper & Lumber Store/hotel and restaurant, The Admiral's House built in 1855, The Officers Quarters and Capstan House, Fort Berkeley plus a harbor for yachts. Many converted to shops.


After looking around we took a water dingy across the water to walk up to Shirley Heights ($8 for two or $16 round trip). It was a medium to hard walk that took us about an hour with stops looking at the views and resting. There were nice views and once ready to depart, decided to look for a ride down and was offered a ride by a driver who had room in his van. We paid the drivers tip to contribute. I bought my first of 3 t-shirts (my weakness) had some water and a few turnovers (pineapple, apple and veggie) from the dockyard bakery.


We all caught the 17 bus back and Lynn and I toured town (I got rum raisin ice cream) and Lynn got a sorbet. Octav and Debbie caught the #22 bus to Valley Church Beach for a beer and swimming. The app I had just put on my phone (S Health) popped up to say we walked 15 miles the 12-18th, with most miles today and then our next two stops.


Click on any picture for a larger image or to play a movie
| | | | |
| --- | --- | --- | --- |
| Antigua | Buses | Nelson's Dockyard | Nelson's Dockyard bakery |
| | | | |
| --- | --- | --- | --- |
| Nelson's Dockyard | Heading to Shirley Heights | Nelson's Dockyard | Shirley Heights walk |
| | | | | | |
| --- | --- | --- | --- | --- | --- |
| Shirley Heights walk | Shirley Heights walk | Shirley Heights walk | Shirley Heights walk | Antigua | Antigua |
| | | | | |
| --- | --- | --- | --- | --- |
| Shirley Heights walk | Shirley Heights walk | Nelson's Dockyard from Shirley Heights | Antigua | by ship St. Johns, Antigua |
Castries St. Lucia, 8:00-4:00, Feb. 17
We again toured with Debbie and Octav and negotiated to get a driver (Baptiste Taxi Service, 1 (758) 719-8370, who had a nice mini van) for the day for $180 or 45 per person ($200 total with tip at end). Another take cash island. We got a tour which took us through winding roads and hills to 1) a clear sulphur spring bath at Diamond Waterfalls & Botanical Garden ($10 each), 2) went to the Sulphur Springs Black Water Pool in Soufriere ($5 each) close to smoke coming from a volcano (this was a muddy fun stop), 3) on to Sugar Beach, A Viceroy Resort which you needed to get a ride in and make a purchase to get a ride out, between the Pitons in Marigot Bay. We needed more time here to snorkel and explore but needed to get back. We had some topas and a beer while Octav and Debbie snorkeled a little (I was able to use a credit card at the resort). Next time we may try and find a way to snorkel in Anse Chastanet where we have scuba dove in the past.

When back in port I purchased a polo type shirt for $18


Click on any picture for a larger image or to play a movie
| | |
| --- | --- |
| St. Lucia | St. Lucia |
| | | | | | |
| --- | --- | --- | --- | --- | --- |
| Diamond Waterfalls & Botanical Garden | Botanical Garden | Marigot Bay, St. Lucia | Pitons of St. Lucia | Diamond Waterfalls | St. Lucia |
| | | | | |
| --- | --- | --- | --- | --- |
| Sulphur Springs Black Water Pool | Sulphur Springs Black Water Pool | Sulphur Springs Black Water Pool | Volcano Smoke | Pitons Bay |
Bridgetown Barbados, 8:00-4:00, Feb. 18
The ship had a free shuttle to the terminal but is was so close you could walk there also. Breakfast with Tom and Robin another many cruise couple that also were into motorhomes and we had a good talk. We were off by 10. We wanted a down day to just relax and Lynn had found a place called Boatyard that for $20 per person ($40BBD), you get a drink each, chairs and umbrella, a boat ride with snorkel and mask included to go see a turtle or two, water trampoline, showers, plus a ride back to the ship. You get on a list and it took about 2 hours to be our turn. I had flying fish & fries at the restaurant ($14) there which was good. It was what the doctor ordered as it was a relaxing day. The walk there is about 30 minutes at a easy pace, you just keep right along the water and over a bridge.

I got my second t-shirt, $12 at the terminal and we bought some euchre group gifts. If we do this cruise/stop again we might hit the bus again like in 2012 and explore the island more unless we need another down day.


Click on any picture for a larger image or to play a movie
| | | | |
| --- | --- | --- | --- |
| Walk to Dockyard across bridge | Barbados | Barbados | Dockyard shade seats |
St. George's Grenada, 7:00-1:00, Feb. 19
We got off and walked to Fort George with Octav and Debbie. It was Sunday so almost all the stores were closed. After seeing the views from the Fort we walked back to the ship and negotiated a taxi with (Ken Cab, 1 (473) 406-1927) for $40 ($50 w/tip) for the four of us to go to Morne Rouge Bay to snorkel from 10-noon. The beach was nice but we did not see much snorkeling except some urchins and a few fish. I found a urchin shell I brought back. Someone later said we may have needed to snorkel out farther, just past the points forming the bay to see a reef. Lynn bought three spice necklaces from a lady on the beach, had a vegan plate and I had a couple Carib beers before heading back. Ken arrived at noon as scheduled, and on our way back we had Ken stop at the chocolate factory and Lynn bought a couple chocolate bars and a bottle of chocolate hot sauce (72 XCD = $26.67).

Click on any picture for a larger image or to play a movie
| | |
| --- | --- |
| Grenada | Grenada |
| | |
| --- | --- |
| Grenada | Fort George |
| | | | |
| --- | --- | --- | --- |
| Jeff & Lynn | Fort view with Octav, Debbie & Lynn | On Fort | Morne Rouge Bay |
Kralendijk Bonaire, 1:00-8:00, Feb. 20
We got off and went to the taxi stand which had standard rates of $10 and took one to Captain Don's Habitat. It is a nice dive resort and we just left our bags by the seats and went snorkeling for 45 minutes. Their was good snorkeling seeing plenty of fish, sponges and coral close to shore. I am not sure the policy for use, but we went off the side dock and stayed out of the way for our quick excursion. After we had the front desk call a taxi for us and went back to town. Debbie and Octav went off to see the salt flats and flamingos while Lynn and I toured the shops in town. T-shirt number 3 for me ($22), Lynn found nice necklaces made from a nut, that were cut out and dyed which looked very nice (at market by ship). During our tour we had a couple $3 beers, connected to the internet, found a unfriendly ice cream shop and a very friendly ice cream shop (samples before buying).

Definitely a good stop for scuba or snorkeling. We were back on board by 6:00 and went to dinner.


Click on any picture for a larger image or to play a movie
| | | | |
| --- | --- | --- | --- |
| Bonaire | Bonaire waterfront movie | Captain Don's waterfront | Bonaire |
Oranjestad Aruba, 7:00-4:00, Feb. 21
We booked a 2.5 hour tour for the four of us for $100. We saw Ayo Rock formation, California lighthouse, cashew trees and trees the have been blown west. After we were dropped off at Eagles beach. Lynn and I walked about a mile down the beach and back, layer out a little then I got a beer and we connected to internet again. Our driver wanted three hours to fit in another tour and Lynn and I are not that much into laying at the beach, so we gave the rest of our money to pay the driver to Debbie and caught a bus ($2 each) back into town to look around and have lunch on the ship.

After lunch we toured and Lynn found a dress she liked ($25) and bought Clara a present. We also ran to the supermarket and bought a tube of toothpaste and sun tan lotion as we were getting low. I started looking at watches as my Citizens eco-drive I bought on a cruise in St. Martin in 1999 died after 18 years, getting moisture in it after our snorkeling in Bonaire. The local currency was divided by 1.75 to equal a US dollar.

We also went to see ruins of an old gold mill, a natural bridge that was no longer safe to be on, besides one that had collapsed, and a burnt out car from a steal parts and burn the rest thief.

Click on any picture for a larger image or to play a movie
| | | | | | | |
| --- | --- | --- | --- | --- | --- | --- |
| Aruba | Cashew bush | West blown tree | Ayo Rock Formation | Natural Bridge | Eagles Beach | Oranjestad Aruba |
Cruising North for two sea days
I was finally feeling like I had got over my virus and did the elliptical for 20 min. not to put to my normal 30-35, then some weights. Lynn also did elliptical and weights. We read some more, and were wrapping up the books we brought. This cruise we had watched some movies under the stars when we did not have to get up too early (The Accountant, Dr. Strange, Denial, Girl on the Train). Another age item for the ship was the screen had some led light color issues and needs updated. Also weird that when the talking stopped, music seemed to jump in.

Lunch the last sea day was great, broiled lobster tails, ribs, filet minion, apple pie and ice cream, plus the tons of other choices as normal. I had three tails and some ribs :)

One night we did putt putt golf. I did not get motivated to do the rock climbing wall with no one else in our party interested. I remembered the little cow statues by the elevators on deck 13 from our 2007 cruise on this ship. Our weather for our time away was beautiful. Low 80's and sunny almost all the time.





My Royal Caribbean, Serenade of the Seas synopsis
We had sailed to Alaska 10 years ago on this ship. The ship was launched in 2003 and it was showing its age in a lot of small ways from particle board in our bath starting to crack, rust in places in the bathroom, mirror edges silver retreating, wood hand rallies being worn, deck chair straps breaking, etc. On the other hand this was one of the most friendly and helpful crews I remember. They bent over backwards to assist you. The food was also above par. The ship is due to go to dry dock for two weeks in Nov. 2017, so we reserved another similar cruise on her in Feb. 2018 ($150 refundable deposit, $200 on board credit, $2,115 without tips for another 11 night cruise) and will see what was improved and replaced. I believe they are also suppose to be rebuilding the engines. While we were on there was one water pipe break that stopped our water for a couple hours as it was fixed, and we heard there was a power outage for a short time but did not effect us where we were at the time.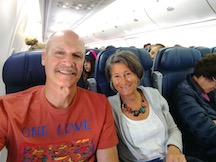 Flight home in a new T




Our flight back was at 11:45 a.m. so we did self carry off the ship as soon as allowed (7:45 a.m.) caught a taxi $18 including tip, to the airport which was very close. We came home to 68 degree weather, which was crazy for Feb. and it had been warm for a week in Michigan. It was nice not to hear news or in my opinion the craziness or bad policies President Trump and/or the Republicans were trying to implement for our two weeks away.