Lynn: Thankfully the seas are calm today, and although my Jeffie tested positive today, we have spectacular views off our balcony. Today is a day going through the Fiordsland. Enjoy the magnificence.
Lynn: And, last but not least, the beautiful Milford Sound. Oh what an incredible day of beauty... mountains, waterfalls, dolphins, seals ❤ So grateful for this opportunity to be in the midst of this stunning nature known as Fjordland!
Sea Day
March 22-23
Today is Lynn's birthday!!! (in between New Zealand and Australia in the Tasman Sea it is Thursday morning, March 23rd). Turning a new decade, recovering from covid, isolated in a room with me, what else could she ask for, lol. So please wish this beautiful lady a happy birthday, in your time zone or ours.



Melbourne, Australia
March 24, 2023, 8:00am - 5:00pm
Jeff: The most I will see of Milbourne, Australia as I am still quaranteened for two more days. Lynn has been cleared but has to stay in a separate room so she can go about the ship and to shore. 65° today, cloudy now.

Lynn: Well, I am in a separate cabin since I was cleared yesterday; Jeff has 2 more days to go. I was able to get outside in Melbourne for a bit, took the tram into town, got off and turned back around. Soon, hubby and I can explore together again.

Click on Kangaroo below to play a slide show, then back arrow to return to this page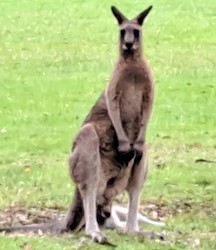 Melbourne, Australia slides
Burnie Tasmania, Australia
March 25, 2023, 7:00am - 4:00pm
Jeff: Hopefully my last day in isolation. Sunday March 26th at 7:30 AM (here).

Lynn: Walked about in Burnie, Tasmania.

Click on Kangaroo below to play a slide show, then back arrow to return to this page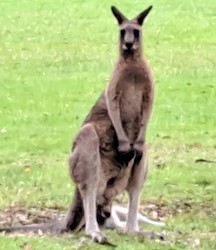 Burnie Tasmania, Australia slides
Eden, Australia
March 26, 2023, 10:00am - 5:00pm
Lynn: Hooray, hubby has been sprung and we are reunited and it feels so good!! Having a walkabout in beautiful Eden, Australia. Walked to the golf course where there are tons of Kangaroos! On our walk saw a number of cocatiels. Stopped for lunch in town at Sprouts before we head back to the ship. Happy day

Jeff: Explored Eden by walking through town to a golf course with many kangaroos and cockatiels. Bought a drink in the golf course and got a free shuttle back to town. I bought a hat with a kangaroo logo.

Click on Kangaroo below to play a slide show, then back arrow to return to this page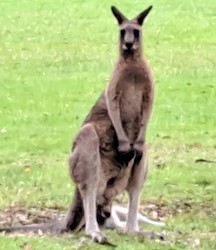 Eden, Australia slides
Sydney, Australia
March 27, 2023, 6:00am - 4:00pm
Jeff: Exploring Sydney. End of cruise #1, New Zealand and Australia . Now continuing on our cruise #2, 15 day South Pacific adventure.

Lynn: Coming into Port in Sydney this morning and then taxi to Darling Harbour for a walkabout as the new day arrives.
Out and about exploring beautiful Sydney. On foot and via The Big Bus, a hop on, hop off venue. The Royal Botanical Gardens and Opera House areas are amazing. I love how accessible this city is
A few more sights before back on the ship. 2 sea days once we leave Sydney.

Click on Kangaroo below to play a slide show, then back arrow to return to this page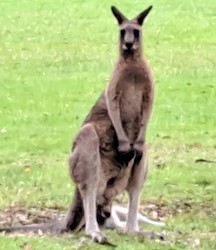 Sydney, Australia slides
Sea Daya
March 28-29, 2023
I am throwing in some pictures from the ship here. We did enjoy this cruise and although the ship had older bones, the renovation a few years earlier made it fairly nice. Not great as it is the oldest ship in NCLs fleet but OK. The itinerary was good and we both agreed that we could have kept going. We also met a couple nice couples (Bill & Nadine Wright, Leann & Jack Carpenter), that we played euchre and kings in the corners with. This was our longest cruise to date, but from Papeete the ship was going to Hawaii, then on to Alaska.

This cruise was over both our birthdays (in quaranteen), Easter, St. Patricks day and we crossed the international date line, giving us an extra day.

Click on Ship below to play a slide show, then back arrow to return to this page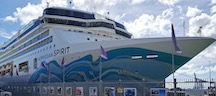 Norwegian Spirit
Isle of Pines, New Caledonia
March 30, 2023, 8:00am - 5:00pm
Jeff: We took advantage of our gold status and tendered to shore early. Took our snorkles, masks and aqua socks. We snorkled for about 1.5 hours and saw nice coral, some rich purple color and a lot of fish. We saw seahorses (pipefish), many humuhumunucunucuapawaa, puffer fish, orbital bats fish, bright blue damsels, many types of butterfly fish, niger triggers, large unicorn fish, small groupers, etc. Wish I remembered my inexpensive underwater camera.

Lynn: Happy arrival to Lifou, New Caledonia; a beautiful island with some pristine coral reefs right off shore; great snorkeling!

Click on map below to play a slide show, then back arrow to return to this page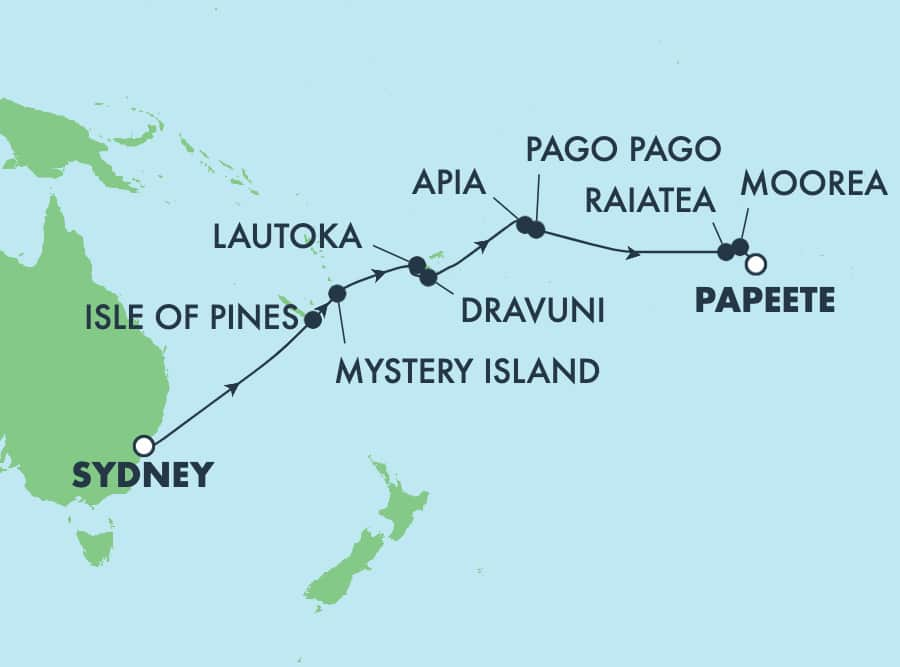 Isle of Pines, New Caledonia slides
Mystery Island, Vanuatu
March 31, 2023, 8:00am - 5:00pm
Lynn: Today was a beautiful, warm day spent on Mystery Island, Vanuatu. The emerald green and blue water invited fabulous snorkeling right off the shoreline; beautiful coral and a wonderful array of fish including moorish idols, butterfly fish, humuhumunukanukaapoa, deep blue, huge sea stars, huge clams wedged into the top of coral and so much more. Walked around the whole island, which has no roads and is pretty narrow (but wide enough for a small plane landing strip), which takes only about 40 minutes to do! Tomorrow is a sea day before arriving in Fiji

Jeff: Mystery Island, Vanuatu. We went snorkeling for a couple hours again. Small island you can (We did) walk around easily. We saw a few humus, 4 large blue starfish, large clams with colorful lips (multicolored with dark blue lips), butterfly fish, morish idol, clown fish and anenomes, nigers, 3 slugs, a puffer, a urchin, small grouper, wrasse, trumpetfish?, etc. A good morning and back for lunch.

Click on map below to play a slide show, then back arrow to return to this page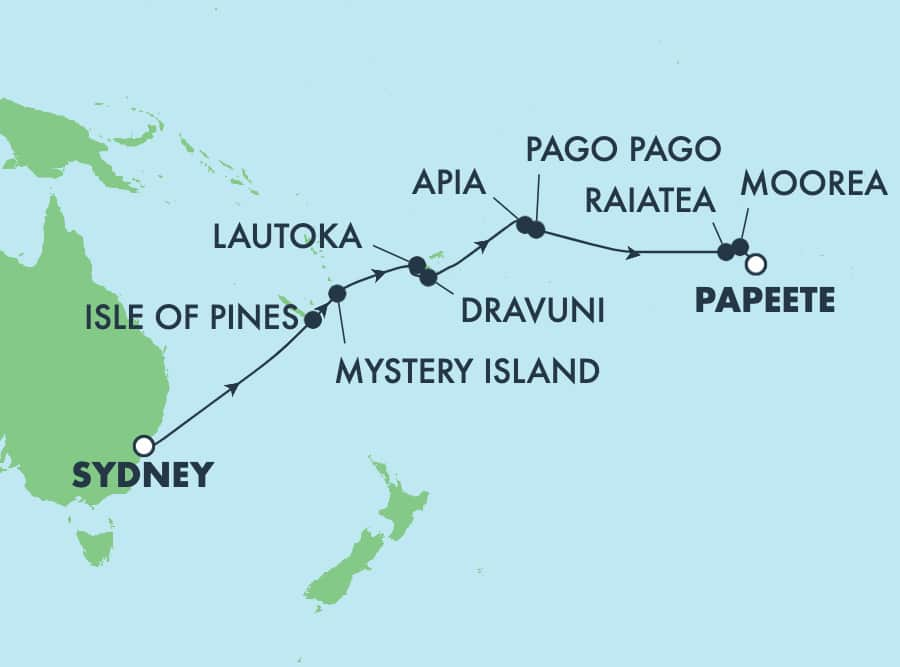 Mystery Island, Vanuatu slides
Lautoka, Fiji
April 2, 2023, 7:00am - 8:00pm
Jeff: On the bus around 8 am for a 30 minute ride past the Sleeping Giant Mountains in the Sabeto River Valley to the Fijian Thermal Mud bath. We slathered the mineral rich mud on ourselves, waited for it to dry, then rinsed it off in two geothermal pools. Then onto a 15 minute Fijian massage. Back to town for a quick look around then shuttle back to the boat by 2:00.

Lynn: A fun outing in Lautoka, Fiji to the mudpool and thermal hot springs. Covered ourselves in mud and after it dried we went into the hot spring, and that was followed by a massage before a final dip in a hot spring. Took a walkabout in town before heading back to the ship.

Click on map below to play a slide show, then back arrow to return to this page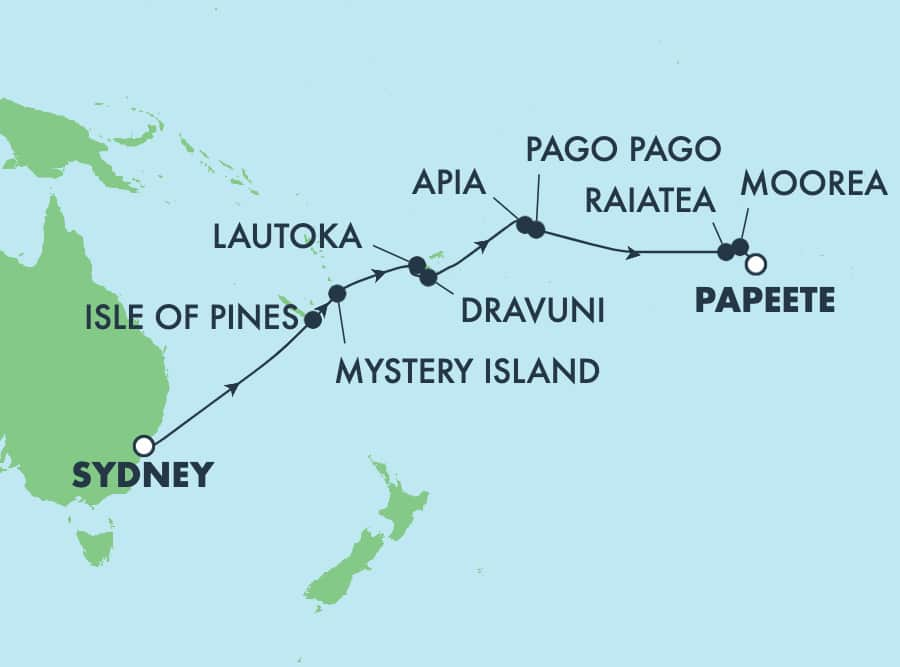 Lautoka, Fiji slides
Dravuni Fiji
April 3, 2023, 8:00am - 5:00pm
Jeff: Tender to Dravuni, Fiji then we decided to walk up the 490' hilltop to see the nice view while it was cool (low 83°). After taking to many photos we walked back to snorkle through the Great Astrolabe Reef. Probably a couple more hours of snorkeling and some highlights were modish idols, a big clam with black brown and light green lips, humus, a large sharp nose puffer, a spot with light blue coral, parrot fish, tomatoe clowns & anemone, stripped triggers?, variety of butterfly fish, etc. Exchange rate is 2+x our favor. Also got a message :)

Lynn: A wonderful day spent in Dravuni, Fiji. Walked up to the island's inland peak (about 490 ft.) And then into the cool, clear water for some beautiful snorkeling. Such a privilege to share in the world beneath the sea. And then we had a 30 min. massage, a little shopping, a refreshing coconut water and meat before heading back to the ship. So grateful for all of it and mostly for the best partner to share it all with

Click on map below to play a slide show, then back arrow to return to this page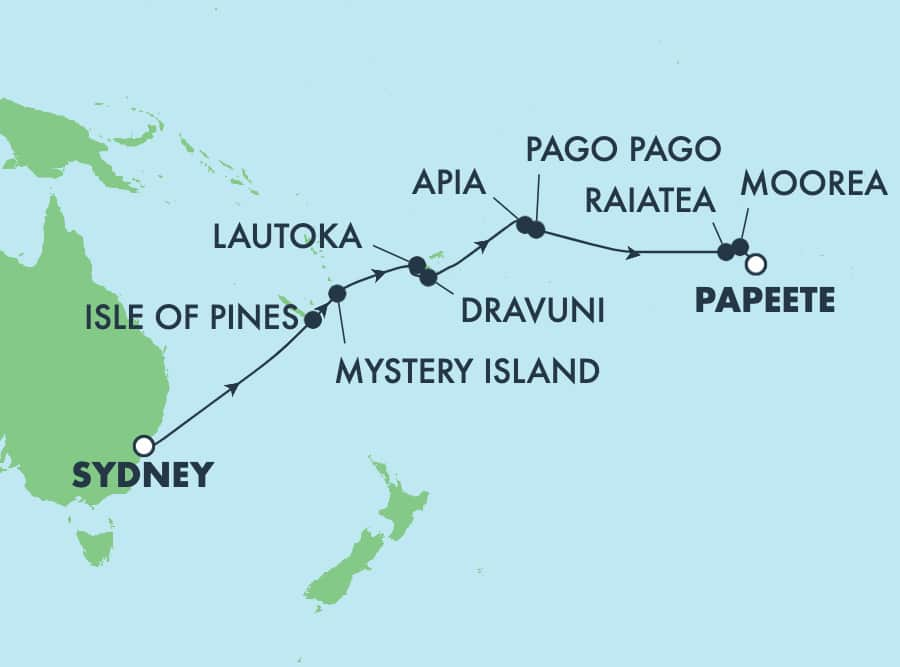 Dravuni, Fiji slides
Apia, Samoa
April 5, 2023, 8:00am - 6:00pm
Lynn: Apia, Samoa today. Another day of morning snorkeling, visiting with beautiful fish before having a walkabout through town and at the market. A hot and humid day. We will cross the International Dateline on our way to our stop for tomorrow, Pago Pago, American Samoa. ***oops, correction/update... tomorrow will be a sea day, kinda like groundhogs day :) as we will repeat today tomorrow as we cross the international date line!! We have 2 April 6's in a row; how fun!!

Jeff: Snorkeling close by at Palola Deep Marine Reserve for an hour. Saw humu's (one protecting its nest), orbtal bats, 2 black cucumbers, butterfly fish, stripped tang, urchin, etc. I thought our stops before were a bit better, but still plenty to see. We then came back to clean up, breakfast, then walk into town. Went to a fruit, vegetable and craft market downtown then back to the ship to clean up again since we got sweaty from the heat (mid 80s and humid after a rain, which happened a little while we were snorkeling and while we were having breakfast). Today is Thursday April 6th. Tomorrow will be also as we cross the international date line

Click on map below to play a slide show, then back arrow to return to this page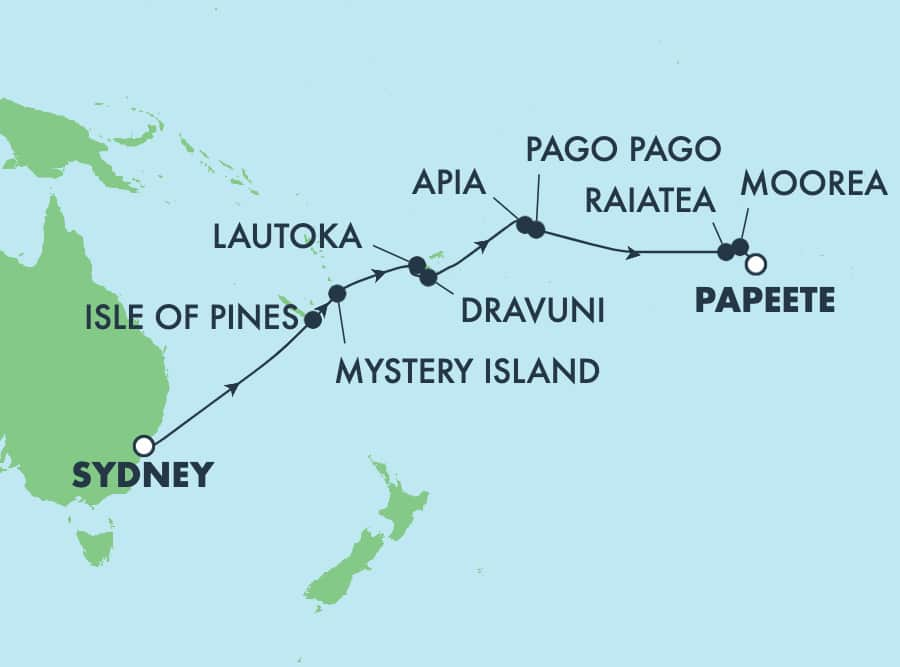 Apia, Samoa slides
Pago Pago, American Samoa
April 7, 2023, 8:00am - 5:00pm
Lynn: A beautiful day spent in what developed out of the center of a volcano, Pago Pago,American Samoa (home of Starkist Samoa). Taxi over to Two Dollar Beach for another wonderful snorkeling adventure. Beautiful array of fish and a huge stingray passing through. Tree loaded up above with fruit bats!! And the beach was staffed by some wonderfully gracious women. Such beautiful surroundings and sailaway! 2 sea days before arriving for 3 stops in French Polynesia. Grateful for all we are experiencing

Jeff: Taxi to $2 Beach to snorkel. Actually $5 each to get in and we were only visitors there for 1-1/2 hours then others showed up. Fairly strong current and waves so we hugged the shore behind break rocks for protection. A lot of Fruit bats hanging in the trees by us snorkeling. Lots of bat fish, triggers, damsels, a few humus, butterfly, Lynn saw a big stingray, slug, squirrelfish, two big sharp nose puffers (one yellow, one black with white dots), 2 little shrimp with pinchers?, etc Then taxi back to town to look around.

Click on map below to play a slide show, then back arrow to return to this page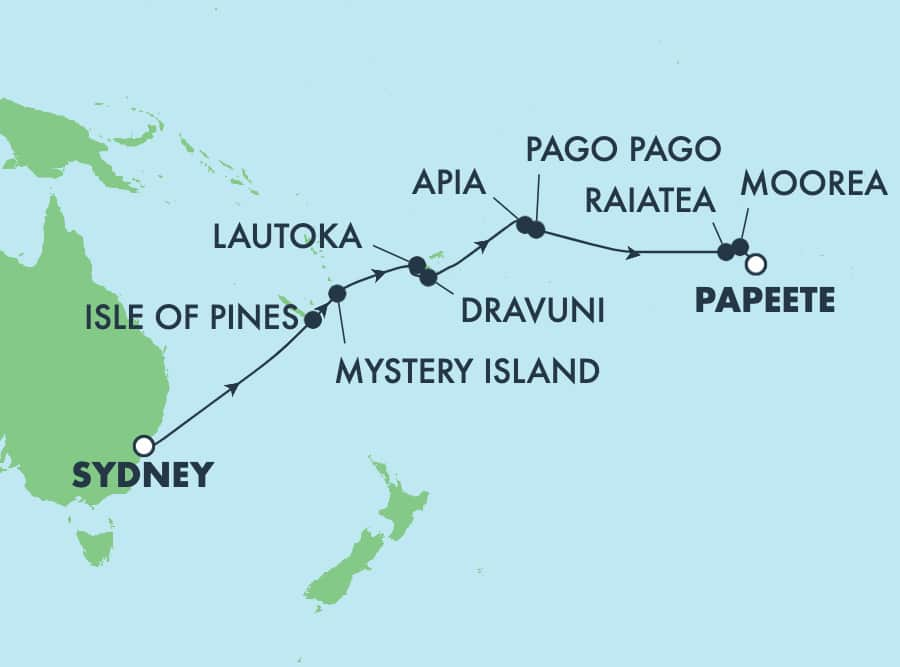 Pago Pago, American Samoa slides
Raiatea, French Polynesia
April 10, 2023, 7:00am - 10:00pm
Jeff: Great tour day with Papa Zulu tour! Vanilla farm, Rum distillery, Black Pearl farm, Coral Garden drift snorkling was all fun. Stingrays, humus, clams, queen trigger, anemone that were 18" to 24" across, etc.

Lynn: Arrived early this morning ar Raiatea, French Polynesian and booked a trip at the dock; had an amazing day that began at 9:30 a.m. and went until 4:30 p.m. Boarded our little tour boat, which accommodated 14 people, and headed 1st to a vanilla plantation on the neighboring island of Taha'a. Then on to a rum Distillery before venturing to a Pearl Farm where they cultivate black pearls. Off to a beach picnic area for lunch before our last adventure of the day, snorkeling at a Coral Garden drift snorkeling location (which is next to a very exclusive resort where President Obama vacationed during his Presidency). Another incredible day in Paradise.

Click on map below to play a slide show, then back arrow to return to this page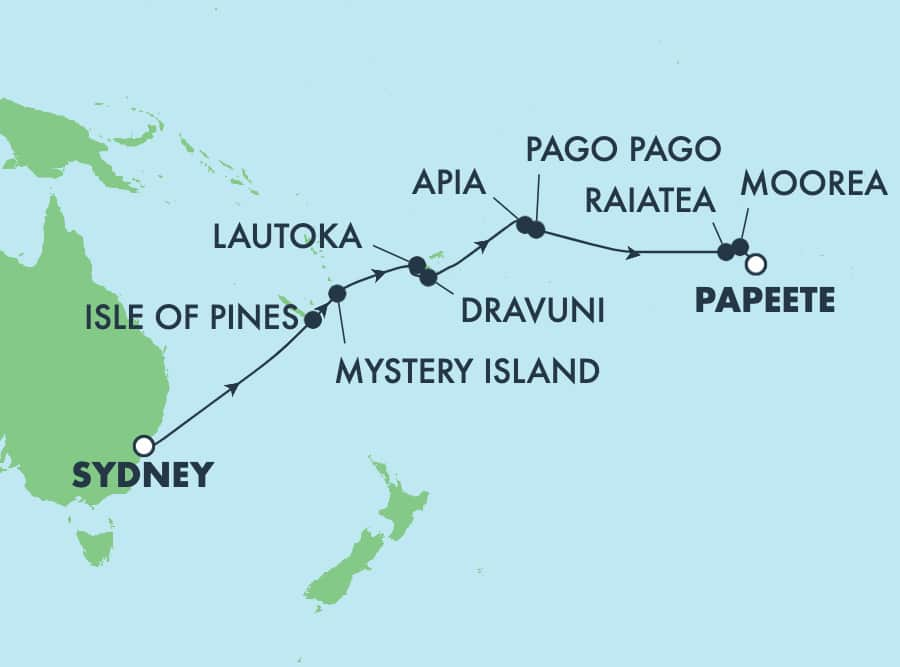 Raiatea, French Polynesia slides
Moorea, French Polynesia
April 11, 2023, in at night, explore from 7:00am - 5:00pm
Lynn: Today the beautiful island of Moorea, with beautiful beautiful mountains, crystal clear water, beautiful fish and nice local handicrafts. Went to a private island area for snorkeling with lovely coral heads, plentiful colorful fish (including a huge trigger fish), stingrays, sharks and then back to the ship. Tonight sailing to Papeete when we will spend the day before flying home on a very late night flight.

Jeff: Trip to a small island (maire beach) by boat to snorkel ($90). Saw Stingrays, spotted eagle rays, 30" queen trigger?, a black with white spots puffer, clams, one morish idol, queen triggers, humus, goat fish, etc. Plenty to see and they feed the Stingrays which is why so many close. Not as good as past stops but still a lot to see. Back to clean up, lunch then deal with NCL not having record of us booking transfers to the airport tomorrow. Spent an hour proving by emails and printouts, now all set. Last we checked out close vendors, walked a bit to discover not much else is close, then a beer and back to the ship to start packing.

Click on map below to play a slide show, then back arrow to return to this page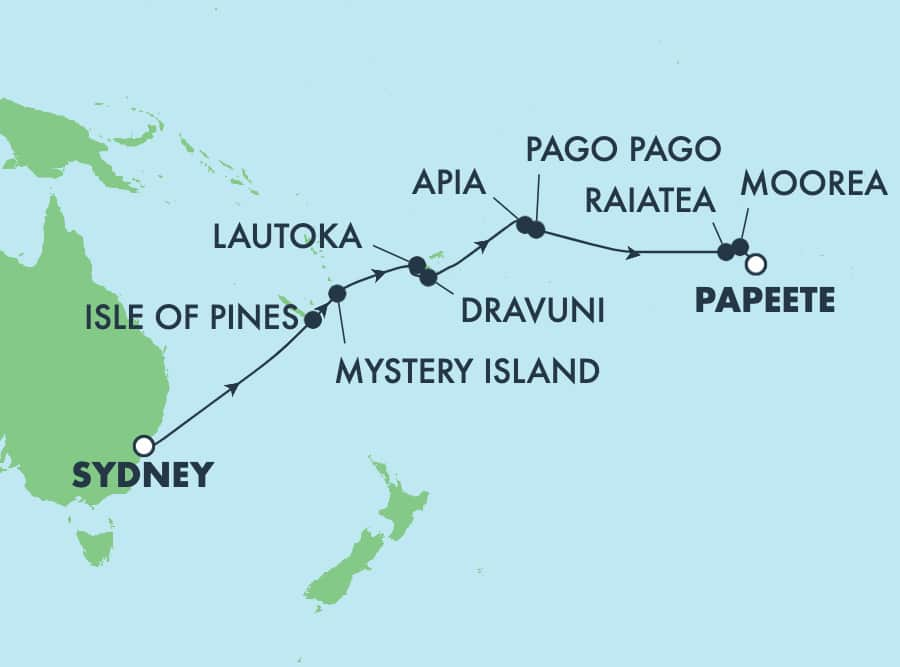 Moorea French Polynesia slides
Papeete, French Polynesia
April 12, 2023, in at 8:00pm, overnight, depart at 8am
Lynn: We spent our last day in Papeete; because our flight is at 11:45 p.m. tonight, the cruise line gave us a temporary cabin to use for the day because our bus transfer to the airport isn't until 7:15 p.m. tonight. So we split the day in half walking for miles in the morning exploring the surrounding area, came back to the ship for lunch and then back out for more walking miles of exploring in the afternoon! Beautiful parks and garden areas at the South Pacific Government Assembly grounds. Even found a vegan coconut ice cream little business at the park, which thrilled me!! A shower before dinner will be heavenly before heading to the airport for our flight. Thanks for joining us on our adventures these past 27+days

Jeff: Self guided walking tour and a room on ship to hang until our bus leaves for airport at 7 pm tonight. The Papeete airport left something to be desired. You waited outside in the heat until 3 hours before your flight before you could check in. The airport wanted to charge us for one bag each because they couldn't verify one bag was included on American Airlines. We had to log in and prove one bag was included. The airport was open air, with smokers going just outside the seating area to smoke. Eight hour flight to Papeete to LAX, then 5 hour flight from LAX to MIA.
Click on map below to play a slide show, then back arrow to return to this page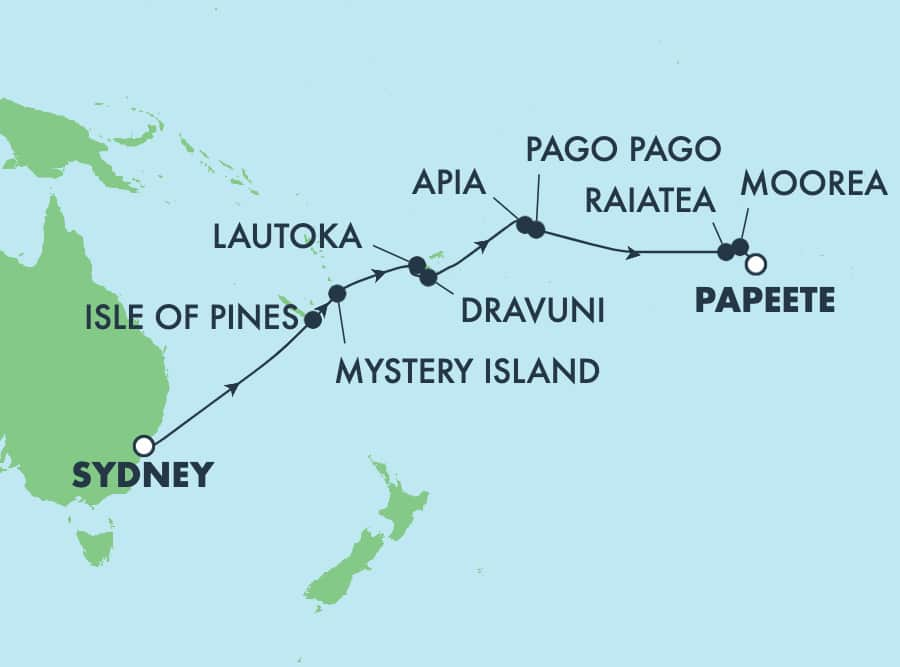 Papeete, French Polynesia slides