Our Arizona vacation, starting in Phoenix
Sunday, 4/13 arrived in Phoenix at 7:25 a.m. and after picking up Alamo rental car and meeting up with Debbie headed to Taliesin West, the Frank Lloyd Wright past home and current architect school and foundation. After our 90 minute tour headed to Sedona; 1st stop. . . Tara Thai restaurant on 179 in the Village of Oak Creek (instantly became a favorite of all of us). Walked the small art fair in the parking lot and then headed to our timeshare accommodations at Arroyo Roble Resort (we were in unit 1453). Shopped at Basha's supermarkets for some food and drink for the week. Early to bed after a very early rise for all of us!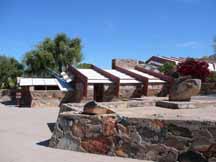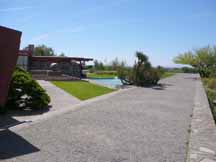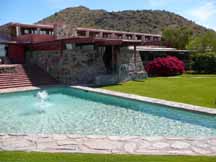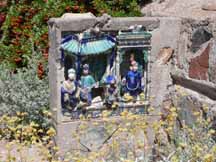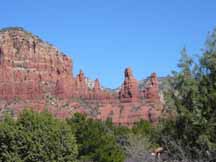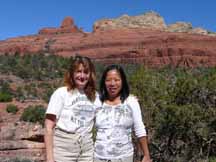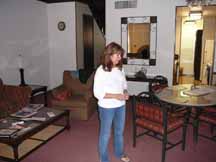 Grand Canyon
Monday, 4/14 Up and out heading to The Grand Canyon (about 2 hours from Sedona), arriving around 12;30 p.m. after some scenic stops along the way; had lunch at Bright Angel lodge, at the rim of the canyon (food was no great shakes but ok and convenient location). Hiked down Bright Angel trail for about an hour before heading back up. . . didn't bring any water bottles and was hot and still had a fair ways to go so based on recommendation of others on the path, turned back to head up. Good workout! Had dinner in Flagstaff at Casa Bonia before arriving back in Sedona at 7 p.m. in time for hot tubbing!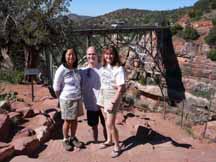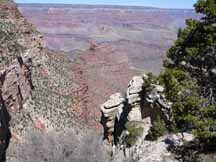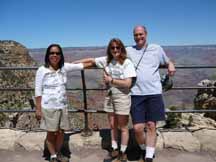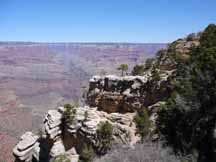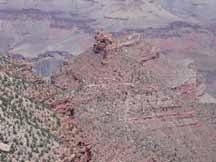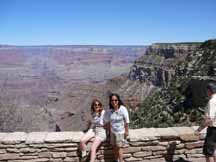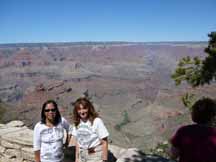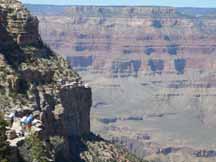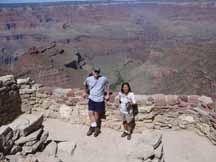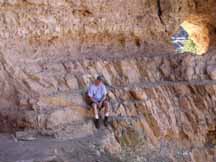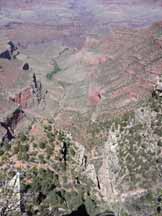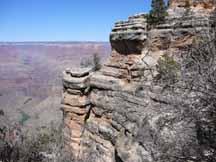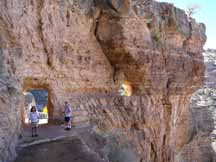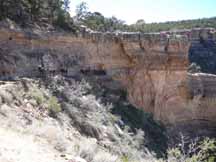 Sedona
Tuesday, 4/15 Went to The Coffee Pot for breakfast (so many omelette's to choose from it'd make your head spin!!); Very good for breakfast! Then off to a 2.5 hr hike of Bell Rock trail and Courthouse Butte Tr. Awesome scenery and a great way to stay fit on vacation here! Then back to Tara Thai for another yummy lunch. Walked around town in the afternoon and then dinner at The Cowboy Club. . . Elk Tenderloin for me, Prime Rib for Debbie and bbq ribs for Jeff; tasty but quite pricey. Then off to the hot tub again!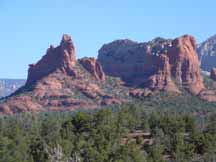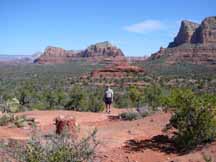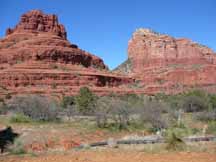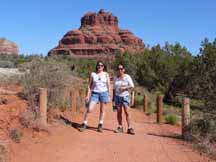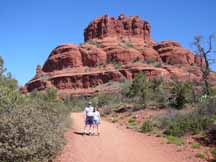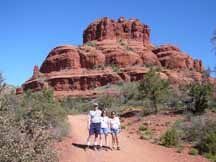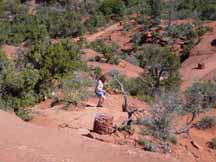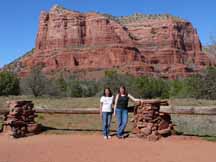 Movie on the Bell Court trail: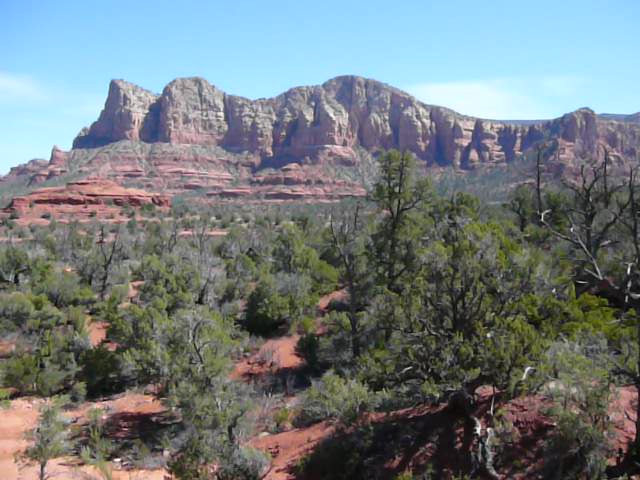 Wednesday, 4/16 Debbie caught the shuttle to head back home early in the morning, after which Jeff & I spent the day investigating timeshare options with some nice gifts for going to the presentations ($100 cash, $100 AMX card and two 1st class train tickets for the Verde Canyon Railroad). Went back to town for lunch at a great Korean restaurant called Mago Cafe, upstairs on the main drag with some very nice views and lovely people (great salad called Wonderful Day with sweet potatoes, orange slices, lettuce, cabbage, candied pecans, feta cheese). Back to the timeshare for cocktail hour before going to Tara Thai for dinner.


Thursday, 4/17 5:05 a.m. pick for our hot air balloon ride with Red Rock Balloons. What a spectacular ride . . . lift off at about 6:15 a.m. (our basket has 10 people total, the other basket held 18 people); beautiful, calm, cold, clear morning. Noted that the balloon was made at Cameron Balloons in Ann Arbor (actually in Dexter). Our pilot, Mark, had us up for 1.5 hours (other balloon had only an hour ride as their landing on the street was pretty easily done . . . we had more of a challenge finding winds in the correct direction, and a place to come down that the chase crew could get to us); the views were spectacular, the ride was so quiet and peaceful up above. After our landing in the greenery of a neighborhood, beside the No Trespassing sign, headed to a park for a champagne, muffic and & fruit picnic . . . very yummy and plentiful! Returned to the condo around 10 a.m. Off to hike Fay Canyon for 1.5 hours; beautiful as usual! On the way stopped at Canyon Campfitters so we could replace our hiking shoes since both of ours literally fell apart! Then back to town, lunch at Mago Cafe and then off to another timshare presentation with a $75 gift card perk! Tired at the end of the day so stayed at the timeshare for cocktails and ordered in a pizza!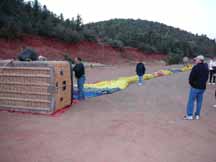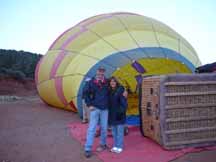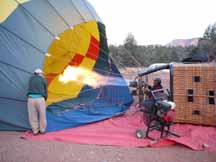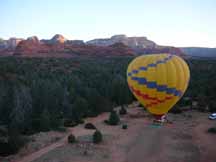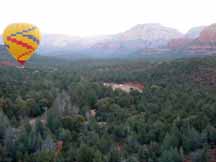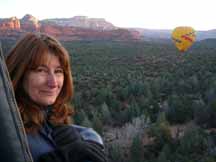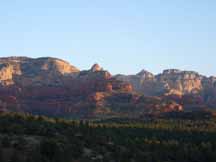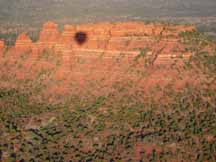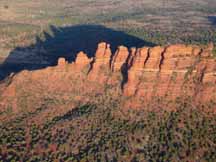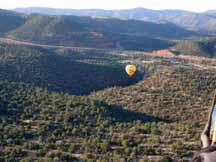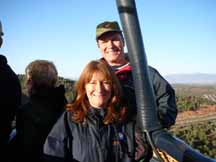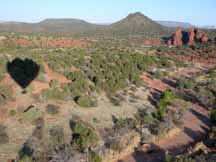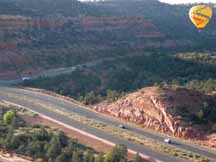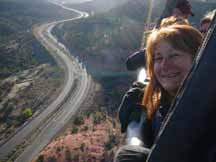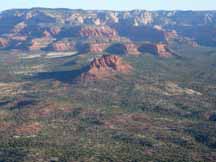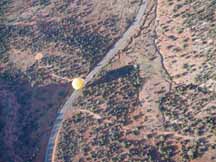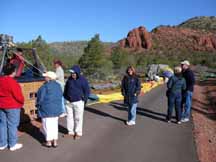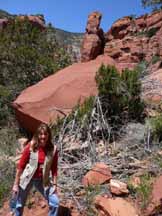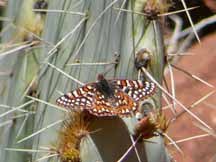 Movies of the balloon ride: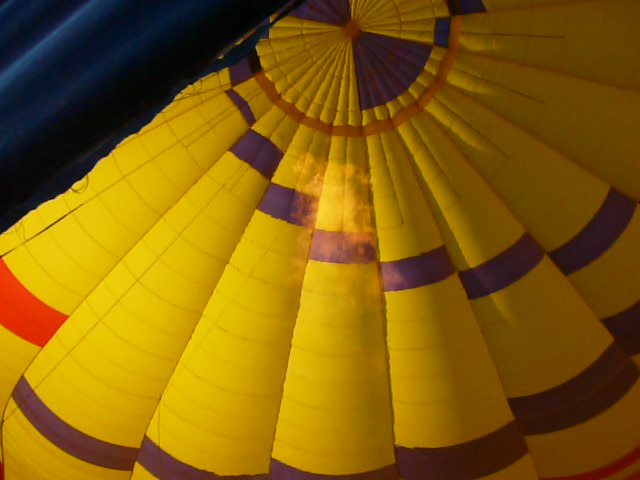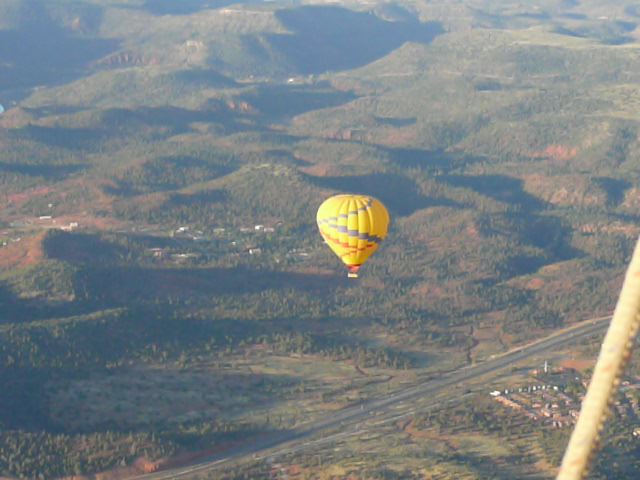 Friday, 4/18 Went up Coffeepot Dr. and took a 1.5 hrs. hike on the Teacup Trail and Sugarloaf Loop. Off to Javelina Cantina for lunch in the Hillside strip mall. . . plentiful, good food! Then back to town for some gelato and then signed up for another timeshare presentation with another $100 cash gift. . . we have made out quite well from attending these presentations and they were actually quite interesting! We think we know what the best ones are (if they have a lot of good places in there own network, before having to trade in II or RCI, have a high timeshare demand area with low availability, and have their own desk to make reservations for you) and we will probably get one week in the near future. Then a little shopping at the Pinion Point shops by the Hyatt hotel/timeshare. Next went to the airport area and took a 2 hour (bit scary for me (Lynn) due to some narrow trail areas and being quite high up) trail hike on the Airport Loop, inside the vortex. Views were awesome and the sun was setting as we were completing our hike. . . but not before we saw a couple of deer on the trail (rabbits earlier, too). Moon was full and beautiful. Back to the timeshare for leftovers after another long and wonderful day!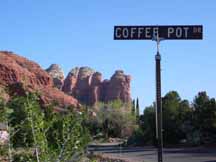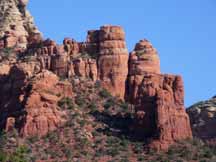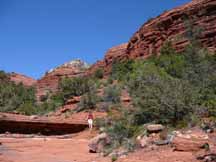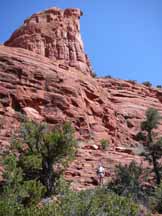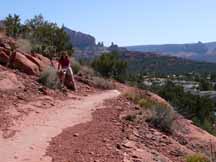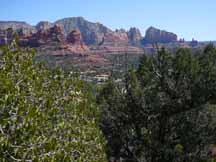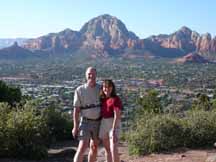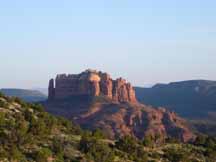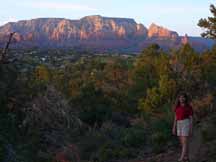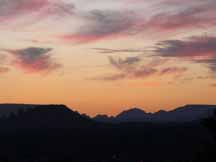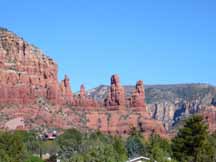 Movies on the airport trail: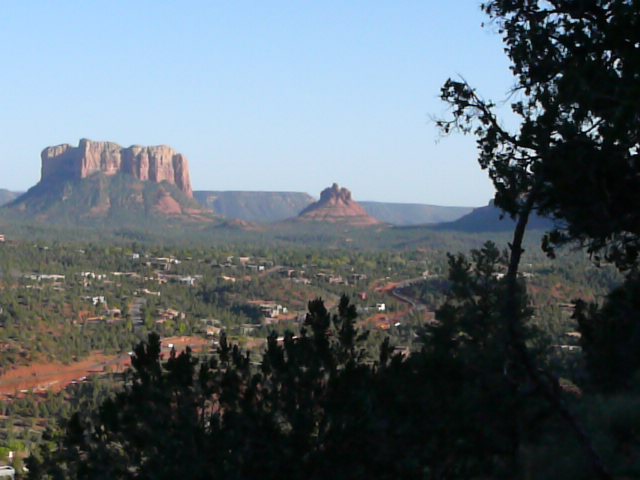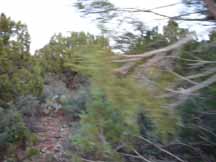 Jerome
Saturday, 4/19 Started off by heading to Jerome, a mountainside artsy community that long ago had been a copper mining town. Walked around and in and out of shops before stopping at the Mile High Grill for lunch. Others had recommend the Haunted Hamburger but looking at the menus we opted for the Mile High Grill; lunch was ok . . . would recommend others to indeed try the burger joint! Then off to our Verde Canyon Railroad ride . . . a 4 hour train trip in a 1st class rail car (served a nice assortment of appetizers) and beautiful scenery; saw a number of bald eagles along the way. Sat next to a lovely couple and her parents from Phoenix area; ex-military people. Drove back to Sedona as the sun was setting, making for continued spectacular views, with the full moon rising. Went to dinner at El Rincon at Tlaquepaque; excellent food! Had to stop at Exposures Gallery to get some more pics of a great statue outside the gallery by Bill Worrell. The Shaman of Life Giving Forces . . . it spoke to me, felt so drawn to it!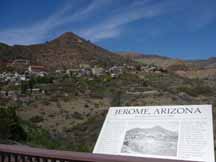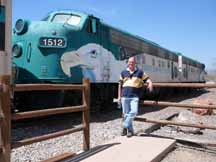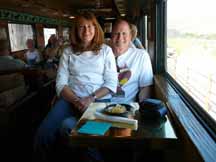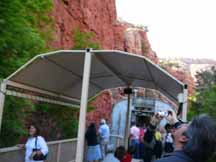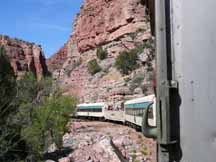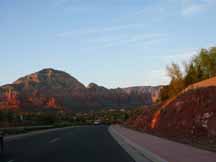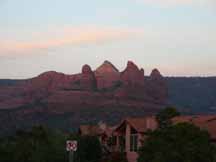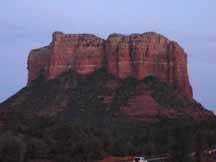 Movies of the train ride: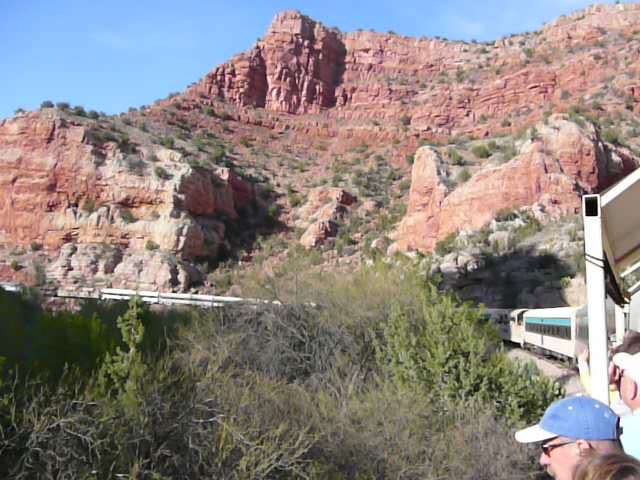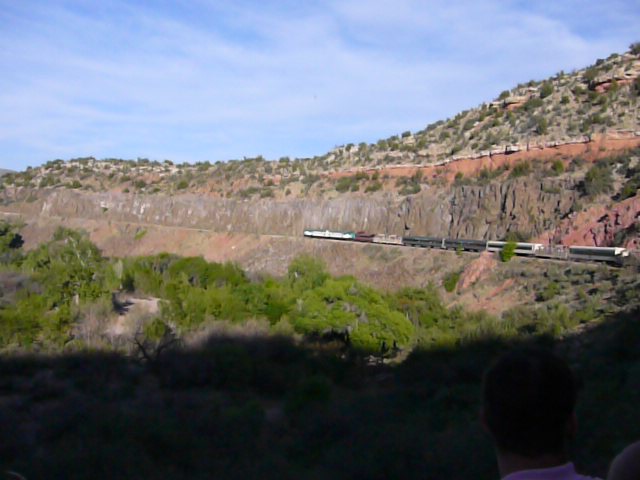 Sunday, 4/20 Packed up to leave and before heading back to Phoenix hit the Chapel of the Holy Cross and then spent an hour hiking down the Mystic Trail off the Chapel Rd. The Chapel was inspired by a devout woman who commissioned Frank Lloyd Wright to come up with a design to mesh with nature and was to be built in Europe; but with the onset of the war the plans never materialized. Years later her dream was realized in Sedona and indeed, the setting was spectacular and after reading about it and walking into the chapel and seeing the views thru the window I was moved to tears. After, headed to Exposures Gallery. . . what an incredible gallery (probably the best I've been in)!! Went to view Bill Worrells' work but realized they had so many other fabulous artists work to view and mingle amongst; great kinetic art outside in their garden area. Then off to Tara Thair for lunch (had to have our last fix). Stopped at the Montezuma Castle site for a peek at the cliff dwellings but didn't take the hike up.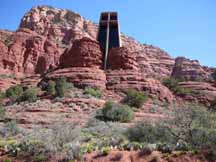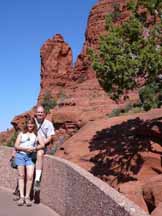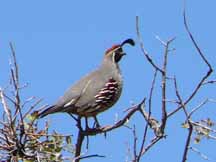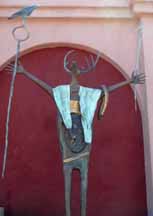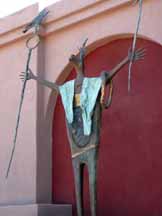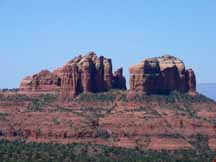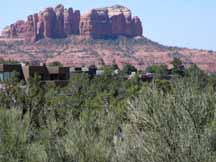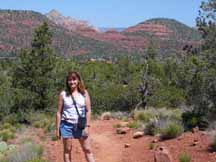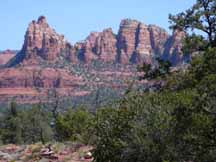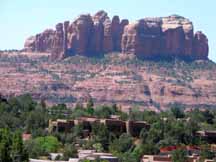 Phoenix
Checked into the J.W. Marriott Desert Ridge hotel in Phoenix around 4 p.m. (beautiful, hotel. . . huge!), where Jeff has a conference from work and will stay til Wed. (I go home tomorrow); Met Jeff's boss and co-worker. Jeff made dinner reservations for us at Roy's (as in the Roy's in Maui when we last ate there) and we had a wonderful dinner with a great server (Darcie). I had the Macadamia crusted mahi and Jeff had Roys' Ahi special; split a great calamari appetizer and a wonderful bottle of Ramsay Pinot Noir. Then an incredible chocolate molten cake with ice cream for dessert!! Stopped by the reception for Jeffs conference where we grabbed a glass of wine and sat around a great outdoor fireplace chatting with some other attendees before heading back to our room.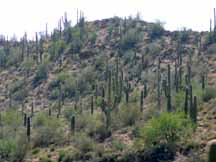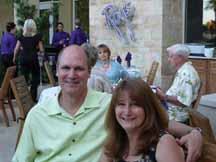 If you want more info write to: jeffdils@yahoo.com